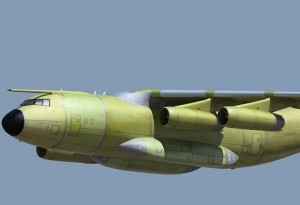 Xian Y-20 is a large military transport aircraft being developed by the Xian Aircraft Industrial Corporation for the Chinese People's Liberation Army Air Force. The advanced long-range carrier is being developed to serve the military modernization drive.
The Y-20 prototype is powered by four Russian D30 series turbofan engines and the production aircraft will sport the WS-20 engines. Cargo is loaded through a large aft ramp that accommodates rolling stock. The Y-20 is similar to C-17 transport aircraft in general layout. The Y-20 incorporates a high-set wing, T-tail, rear cargo-loading assembly and heavy-duty retractable landing gear.
"We are developing large transport aircraft on our own to improve the capability of air transport, to serve the military modernization drive, as well as to meet demands in disaster relief work and humanitarian aid in emergency situations" a Ministry of Defense spokesman Yang Yujun said.
It was reported the Y-20 is undergoing ground testing starting from December 2012, including runway taxi tests.  Will this be a serious competition for C-17 Globemaster III?
General characteristics
Crew: 3
Payload: 72, 306 kg
Length: 51 m
Wingspan: 55 m
Height: 15 m
Wing area: 310 m²
Empty weight: 100,000 kg
Max. takeoff weight: 220,000 kg
Power-plant: 4 × Soloviev D-30KP-2 or WS-18, in the future WS-20 turbofans
Performance
Cruise speed: Mach 0.75
Range: 4,400 km with max payload
Service ceiling: 13,000 m
Max. wing loading: 710 kg/m²