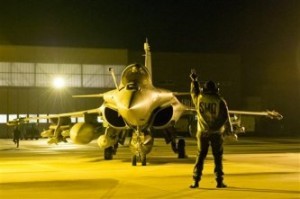 Initially the French Air Force deployed two Mirage F1 CR Reconnaissance from the 1/33 "Belfort" Reconnaissance Squadron and six Mirage 2000D fighter jets, which were already part of the French military Opération Épervier in Chad.
Additionally the Air Force deployed three KC-135 Stratotanker planes, as well as one C-130 Hercules and one Transall C-160 transport planes from the French airbase in N'Djamena.
The operation began on 11 January 2013 with French Army Gazelle helicopters armed with 20 mm cannons from the 4th Special Forces Helicopter Regiment attacking a rebel column near Sévaré. French forces suffered one casualty when a Gazelle attack helicopter came under small arms fire and one of the two pilots was hit. The pilot, Lt. Damien Boiteux, later died of his injuries. The other pilot managed to fly the helicopter back to base, but the aircraft was written off as lost due to the damage sustained.
By 12 January, hundreds of French troops were involved in the military operation in Mali, with special focus in the Battle of Konna. The Malian army claimed that, with their help, it had retaken Konna, which it had lost a few days earlier. French airstrikes appeared to stop the rebel advance to the south which prompted the intervention and destroyed an Ansar Dine command post near Konna
On 13 January four Dassault Rafale fighter jets of the 1/7 Fighter Squadron Provence flew from the Saint-Dizier Airbase in France to attack targets in the city of Gao.
The strikes, designed to support Malian army efforts to push Al-Qaeda-linked groups back to the north of the vast West African state, were reported to have claimed the life of a prominent Islamist leader and up to 100 rank-and-file fighters.
Today, French ground operations began overnight in Mali, said Adm. Edouard Guillaud, the French military chief of staff. France's defence minister said soldiers were headed away from the relative safety of the capital toward the rebel strongholds in the north of the West African former French colony.
Since January 2012, several insurgent groups have been fighting a campaign against the Malian government for independence or greater autonomy for northern Mali, an area known as Azawad. France finally started the Operation Serval on January 2013 when President of Mali asked for assistance.