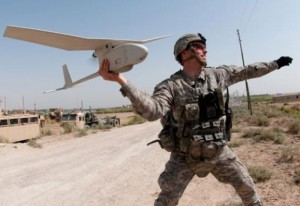 Iran on January 2nd announced that it had shot down two US Army AeroVironment RQ-11 Raven in the span of 15 months. Iran however failed to provide any proof to the claims. Iran has in the past claimed to have hunted down a few U.S drones, showing detailed images of the alleged accomplishments.
"The army's air defense shot down two RQ-11 drones, the army is carrying out research on the downed unmanned aircraft." said Admiral Amir Rastegari.
In December 2011, Iran shocked the world by safely capturing an US RQ-170 drone. A sophisticated US drone previously unknown to the general public.
The AeroVironment RQ-11 Raven is a small hand-launched remote-controlled unmanned aerial vehicle (or SUAV) developed for the U.S. military, but now adopted by the military forces of many other countries.
How do you think Iran is capable of taking down so many drones?