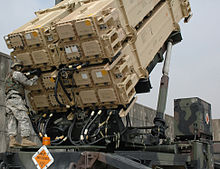 Raytheon has received a $1.7 billion Direct Commercial Sales contract to upgrade Saudi Arabia's Patriot Air and Missile Defense System to the latest Configuration-3. The award includes ground-system hardware, a full training package and support equipment upgrades.
"Raytheon is honored to provide the most technologically advanced air and missile defense system in the world to Saudi Arabia," said Tom Kennedy, president of Raytheon Integrated Defense Systems (IDS). "We are pleased that, with this contract, they have shown further confidence in Raytheon and the superior air and missile defense capabilities of the Patriot system."
The business partnership of Raytheon and the Kingdom of Saudi Arabia spans 45 years and a number of programs. Raytheon first supplied the combat-proven Patriot system to Saudi Arabia in the 1990s to protect the nation's critical assets. Subject to customary U.S. regulatory approvals, work under this contract will be performed by Raytheon at the Integrated Air Defense Center in Andover, Mass. and in Saudi Arabia.
Patriot is the affordable, low-risk and effective air and missile defense system of choice of 12 countries around the globe. The newly redesigned Patriot protects against a full range of advanced threats, including aircraft, tactical ballistic missiles, cruise missiles and UAVs.
Raytheon is the prime contractor for both domestic and international Patriot Air and Missile Defense Systems and system integrator for Patriot Advanced Capability-3 missiles.
The MIM-104 Patriot is a surface-to-air missile (SAM) system, the primary of its kind used by the United States Army and several allied nations. It is manufactured by the Raytheon Company of the United States. The Patriot System replaced the Nike Hercules system as the U.S. Army's primary High to Medium Air Defense (HIMAD) system, and replaced the MIM-23 Hawk system as the U.S. Army's medium tactical air defense system. In addition to these roles, Patriot has been given the function of the U.S. Army's anti-ballistic missile (ABM) system, which is now Patriot's primary mission.
Raytheon, with 2010 sales of $25 billion, is a technology and innovation leader specializing in defense, homeland security and other government markets throughout the world. With a history of innovation spanning 89 years, Raytheon provides state-of-the-art electronics, mission systems integration and other capabilities in the areas of sensing; effects; and command, control, communications and intelligence systems, as well as a broad range of mission support services. With headquarters in Waltham, Mass., Raytheon employs 72,000 people worldwide.