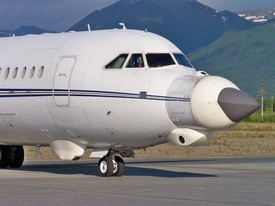 Northrop Grumman Corporation has successfully participated in the 2011 Northern Edge joint military exercise by demonstrating key F-35 Joint Strike Fighter (JSF) sensor capabilities in a demanding operational environment. The AN/APG-81 active electronically scanned array (AESA) radar and AN/AAQ-37 Distributed Aperture System (DAS) were mounted aboard Northrop Grumman's BAC1-11 test aircraft during the exercise. The radar was tested featuring Block 3 and developmental software, and the DAS was tested with JSF Block 2 delivery software.
"The rigorous testing of both sensors during this exercise serves as a significant risk reduction step for the JSF program," said Commander Erik Etz, Deputy Mission Systems Integrated Product Team lead for the JSF Program Office. "By putting our systems in this operationally rigorous environment, we have demonstrated key warfighting capabilities well in advance of its scheduled operational testing."
Participating in the Northern Edge exercise for the second time, the AN/APG-81 radar demonstrated robust electronic protection, electronic attack, passive, maritime and experimental modes, and data-linked air and surface tracks to improve legacy fighter situational awareness. The AN/AAQ-37 DAS displayed its spherical situational awareness and target tracking capabilities during its operational environment debut at Northern Edge this year.
"The ability that DAS provides to track multiple aircraft in every direction simultaneously is something that has never been seen in an air combat environment before," said Chuck Brinkman, sector vice president and general manager of Northrop Grumman's Targeting Systems Division.
The United States Pacific Command, the Alaskan Command and the Joint Electromagnetic Preparedness for Advanced Combat organizations supervised the biennial exercise, which involved over 6,000 airmen, sailors and Marines. As the United States' largest and most complex airborne electronic warfare environment, this exercise encompasses mass air combat scenarios conducted across diverse platforms to test their effectiveness within challenging environments.