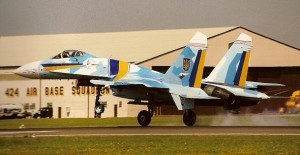 The Sukhoi Su-27 as known by its NATO reporting name "Flanker", one of the most potent Soviet-built jet fighters rarely seen in the west will make a welcome appearance at the Royal International Air Tattoo at RAF Fairford next month. Held annually each July at RAF Fairford, Gloucestershire, the Royal International Air Tattoo is the world's largest military airshow and has gained the well-earned reputation as one of the UK's top outdoor family events.
In 1969 the Soviet Union learned of the U.S. Air Force's "F-X" program, which resulted in the F-15 Eagle. The Soviet Union soon realized that the new American fighter would represent a serious technological advantage over existing Soviet fighters. So in order to develop a better-balanced fighter with both good agility and sophisticated systems they came out with Sukhoi Su-27 'Flanker', which can fly at speeds of up to 1,550mph, first developed in the 1970s to counter the US Air Force's new F-15 Eagle.
With specifications extremely ambitious, long range, good short-field performance, excellent agility, Mach 2+ speed, and heavy armament, makes it one of the best and most successful Russian-built fighter of the Cold War era. The Su-27 is in service with Belarusian Air Force, People's Liberation Army Air Force, Ethiopian Air Force, Indonesian Air Force, Russian Air Force, Ukrainian Air Force and Vietnam People's Air Force.
The Eastern European fighters were last seen at the Air Tattoo 12 years ago, having made their debut at the airshow in 1996. The Ukrainian Air Force Sukhoi Su-27 'Flanker, will appear at Royal International Air Tattoo at RAF Fairford next month on July 16-17. It will be accompanied by a large Ilyushin Il-76 transport aircraft.
Air Tattoo Chief Executive Tim Prince said the Ukrainians' participation underlined the airshow's global reputation built up during the past 40 years. "We regularly receive wish lists from enthusiasts hoping to see specific aircraft and on almost all, the Su-27 'Flanker' comes either top or close to the top. It is an incredibly large and distinctive looking aircraft with immense maneuverability and power. I'm absolutely delighted that visitors to the Air Tattoo next month will be able to see such an iconic aircraft
along with another from the same era, the Vulcan bomber." Tim said.
This summer's Air Tattoo will be marking its 40th anniversary and hosting a gathering of specially-decorated 'Tiger' aircraft from the NATO Tiger Association. The association will mark its 50th anniversary this year. Tiger' aircraft come from NATO squadrons that have a Tiger or Big Cat in their emblem. The 'operational' spotlight STAR 11 will focus on aircraft and equipment involved in the roles of Strike and Reconnaissance.
Nine aerobatic display teams from around the world will be performing in the flying display along with aircraft from countries including the US, Oman, Turkey, Sweden Italy, Austria, Denmark and Jordan.