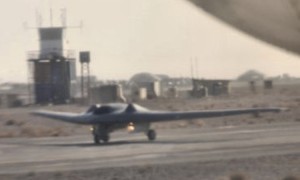 On Sunday International Security Assistance Forces (ISAF) issued a statement that an unarmed U.S reconnaissance aircraft was missing while on a mission in western Afghanistan. ISAF did not specify on the type of the aircraft. Iranian state run news agency IRNA claimed that it had brought down a RQ-170 with "little damage" to  the aircraft, suggesting  that a RQ-170 Sentinel was captured by Iranian Armed  Forces in east of Iran.
Islamic Republic News Agency(IRNA) reported that Iranian Armed Forces brought down the drone by using advanced electronic jammers developed by Iranian defence industries. This could be alarming because other drones such as Predator and Reaper can also be brought down the similar manner. IRNA claimed that Iran's armed forces with an appropriate control environment and control of military intelligence, electronic warfare and air defense units were successful with their actions of the UAV that the rape was limited to the border areas of the East, discovered and made to overthrow the invaders out of control.
These drones are designed to enter a holding pattern or even return home when link between the controller and the drone is broken or tampered. But these systems are not perfect.  In 2009 a Reaper was lost by the control and was shot down by the Air Force using a F-15.
"Militants in Iraq have used $26 off-the-shelf software to intercept live video feeds from U.S. Predator drones, potentially providing them with information they need to evade or monitor U.S. military operations," the Wall Street Journal's Siobhan Gorman, Yochi Dreazen and August Cole reported in December 2009. There also have been instances in Iraq wherein militants have hacked into the UAV communication network and have accessed cameras of surveillance drones.
This is the second time Iran claims to have shot a United States Air Force spy drone. It's interesting that Iran has claimed UAV kills before, although never about the RQ-170.  In January, Iran claimed to shoot down two UAVs, and then claimed another UAV kill in July. Iran never provided pictures or videos to back up its claims.
Iran shot down the drone at a time when it is trying to contain foreign reaction to the storming of the British embassy in Tehran on Tuesday, shortly after London announced that  it would impose sanctions on Iran's central bank in connection with Iran's controversial nuclear enrichment program. Britain evacuated its diplomatic staff from Iran and expelled Iranian diplomats in London in retaliation, and several other European Union members recalled their ambassadors from Tehran.
The RQ-170 Sentinel is an unmanned aerial vehicle (UAV) developed by Lockheed Martin and operated by the United States Air Force (USAF). It has been deployed to Afghanistan as part of Operation Enduring Freedom. Beast of Kandahar, an aircraft, which was photographed in Afghanistan in 2007, is a surveillance aircraft, confirms US Air Force.  The US Air Force on 8th December confirmed for the first time that it is flying a stealth unmanned aircraft known as the "Beast of Kandahar," a drone spotted in photos and shrouded in secrecy.
In December 2009 there were also reports that the RQ-170 Sentinel had been test-flown in South Korea for the past few months and that it was expected that they would be permanently deployed in 2010 to replace Lockheed U-2 reconnaissance aircraft operating from Osan Air Base.
In 2006 Iran was able to spy on the US Aircraft Carrier Ronald Reagan using their own UAV for 25 Minutes without being discovered and returned to base to show the footage to the world and embarrass US capabilities. Seven aircraft were scrambled to intercept the drone but failed. Here is the footage of the incident.