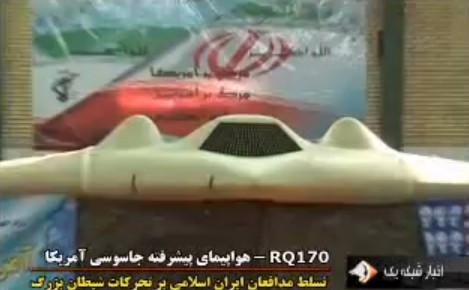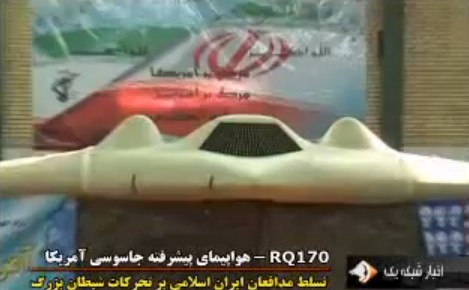 An embarrassment to the United States Air Force, Iran displays a captured RQ-170 Sentinel on it's national television. Iranian state run news agency IRNA had claimed that Iranian Armed Forces had brought down a RQ-170 with "little damage" to the aircraft, suggesting  that a RQ-170 Sentinel was captured by Iranian Armed Forces in east of Iran. But there were many speculations by skeptics on these claims. In response, Iran released a 2 minutes video footage of two Iranian officials inspecting the drone.
International Security Assistance Forces acknowledged the loss of the unmanned plane, saying it had malfunctioned, Iran claimed that it was electronically hijacked the RQ-170 by overriding flight systems and steered it to the ground. The video shows Iranian military officials inspecting the RQ-170 Sentinel, which appears to be undamaged.
This created a opportunity for Russia and China to gain insight on one of the most sophisticated stealth planes in the world. This will allow them to identify, study, research and develop their own drones. In case of China, replicate these drones. They would particularly be interested in RQ-170 Sentinel's stealth capabilities because United States was the pioneer in implementing this technology
The Americans are commenting very little on this incident. The RQ-170 Sentinel entered service in 2009 and was dubbed as "Beast of Kandahar" by some aviation analysts. United States use these stealth drones to make surveillance flights over Iran using bases in neighboring Afghanistan. The nature of the missions usual include to collect intelligence on Iranian nuclear program.
Iran's Foreign Ministry has tried reportedly to summon the Swiss ambassador who is representing US interests in Iran, to condemn the violation of Iranian airspace. US accuses Iran of developing capabilities need to make atomic weapons which Iran denies and insists that it's nuclear program is peaceful.
The RQ-170 Sentinel is an unmanned aerial vehicle (UAV) developed by Lockheed Martin and operated by the United States Air Force (USAF). It has been deployed to Afghanistan as part of Operation Enduring Freedom. Beast of Kandahar, an aircraft, which was photographed in Afghanistan in 2007, is a surveillance aircraft, confirms US Air Force.  The US Air Force on 8th December confirmed for the first time that it is flying a stealth unmanned aircraft known as the "Beast of Kandahar," a drone spotted in photos and shrouded in secrecy.
The video released by Iran shows a captured drone in good shape without a scratch under a Iranian flag. Under the drone is a defaced United States flag mocking the Americans on their mistakes. The video confirms the authenticity of our previous story and pictures.