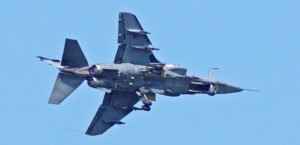 Jaguars were chosen in October 1978 as a part of Deep Penetration Strike Aircraft (DPSA) program to replace its aging fleet of Hawker Hunter and Canberra. Initially an interim batch of ex-RAF jaguars was delivered to IAF in 1979. These aircrafts were fitted with NAVWASS (NAVigation Attack Weapon Aiming Sub-System) from Marconi-Elliot and a Head-Up display (HUD) from Smiths. Aircraft & Systems Testing Establishment (ASTE) Bangalore tested NAVWASS on HF-24 Marut and rejected it.
However NAWVASS was the standard equipment on the loaned aircrafts. RAF wanted to upgrade these aircrafts with a new inertial navigation system Ferranti FIN 1024. Indian air force was invited to join the upgrade program and share the development costs. But the Indian air force was offered its export variant FIN 1024E which was inferior to those installed on RAF's jaguar. This forced India to consider an indigenous upgrade program.
The upgrade program was named INDRA but was later changed to DARIN which stands for Display Attack Ranging Inertial Navigation. To manage this project, Inertial nav-attack system Integration Organization (IIO) was set up in Bangalore. The major sub system for DARIN were Sagem Inertial Platform, Smiths Industries HUD/WAC, Ferranti Combined Map & Electronics Display (COMED), Crouzet Air Data Package and SFIM Flight Test Instrumentation Package – all to be integrated using dual Mil 1553B standard Digital Data bus. The retrofitted Jaguars received IOC in 1984 and FOC a year later in 1985. Reliability of DARIN was far better than the old one. IIO also retrofitted six Jaguars with DARIN and Thomson CSF Agave radar for maritime attack, this variant was named as Jaguar IM.
A recent upgrade program called DARIN II was carried out to extend the operational life of Jaguars by another two decades. Improvements on avionic suit were carried out under this project. This upgrade included Sagem's Ring-Laser gyro integrated with global positioning system (GPS), it provides position accuracy within 100 meters. Twin mission computers installed on DARIN II jaguars were developed by DRDO's DARE (Defence Avionics Research Establishment). Smith's HUD found on DARIN was replaced by Israeli Elbit HUD. A single liquid crystal multifunction display (MFD) and a new chaff dispenser were also added.
The latest upgrade program DARIN III has also been approved. In addition to new avionics and equipment installed as part of DARIN II upgrade, DARIN III would feature modified avionics architecture, new cockpit with dual SMD, Solid State Flight Data Recorder and Solid State Video Recording System, auto pilot system, integration of new multi-mode radar on Jaguar IS(currently only Jaguar IM are fitted with radars). Major structural modification would be carried out on the air frame to accommodate the radar. Initial Jaguars delivered to IAF were powered by two Adour 804E however further deliveries were powered by Adour Mk811. All the current Jaguars of IAF are powered by Adour Mk811. DARIN III upgrade will cause additional weight problems due to addition of new avionics and radar, resulting in it becoming underpowered.
Engine replacement for Jaguar is also in progress. The engine replacement program is not a part of DARIN III upgrades