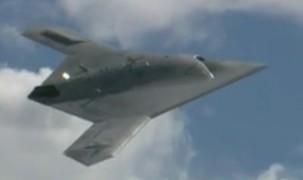 The Northrop Grumman X-47B is an demonstration Unmanned Combat Aerial Vehicle (UCAV) which first flew in February 2011. The X-47 project began as part of DARPA's J-UCAS program, and is now part of the United States Navy's UCAS-D (Unmanned Combat Air System Demonstration) program, which aims to create a carrier-based unmanned aircraft. Unlike the Boeing X-45, the development of the original X-47B was fully funded Northrop Grumman.
The autonomous X-47B is the air vehicle for the Navy's Unmanned Combat Air System Carrier Demonstration (UCAS-D) program. It will be used in 2013 to demonstrate the first carrier landings and launches by a tailless, low-observable-relevant unmanned system. The fighter-sized aircraft features an innovative, GPS-based navigation and landing system that will enable it to land autonomously, with precision, on the moving deck of a Navy aircraft carrier.
Northrop Grumman is the Navy's UCAS-D prime contractor. The company has built two X-47B aircraft to fulfill the demonstration objectives of the UCAS-D program, which is intended to reduce risk for potential unmanned systems operating in and around an aircraft carrier.
"The Navy/Northrop Grumman team is privileged to have a leading role in maturing and demonstrating technologies that will help speed the integration of unmanned systems into future carrier operations." said Janis Pamiljans, vice president, Navy UCAS for Northrop Grumman's Aerospace Systems sector.
In addition to the planned carrier launches and landings in 2013, added Pamiljans, the program will also demonstrate the ability of the X-47B to conduct autonomous aerial refueling operations in 2014.
The X-47B was designed by Northrop Grumman in San Diego and El Segundo, Calif., and assembled in Palmdale, Calif. The first air vehicle successfully completed its first flight Feb. 4 at Edwards Air Force Base, Calif.
The Navy/Northrop Grumman/U.S. Air Force UCAS-D integrated test team is currently conducting additional flights of that first X-47B to validate its airworthiness and in-flight performance. The aircraft is expected to transition to Naval Air Station Patuxent River, Md., by the end of 2011 to begin land-based carrier suitability testing. The second X-47B aircraft is currently undergoing ground testing leading up to its first flight, which is expected to occur by the end of the third quarter.
The purpose of the UCAS-D carrier integration effort is to digitize the communications and navigation information flow to incorporate capabilities required for unmanned air system (UAS) flight operations aboard a carrier, with minimal impact to existing hardware, training and procedures.
The X-47B is a computer-controlled UAS that takes off, flies a pre-programmed mission, then returns to base in response to mouse clicks from its mission operator. The operator actively monitors the X-47B air vehicle's operation and responds to air traffic control instructions, but does not "fly" it via a remote stick-and-throttle control the way some unmanned systems are currently operated.
Northrop Grumman's UCAS-D joint industry team includes GKN Aerospace, Lockheed Martin, Pratt & Whitney, Eaton, General Electric, Hamilton Sundstrand, Dell, Honeywell, Goodrich, Moog, Wind River, Parker Aerospace and Rockwell Collins.