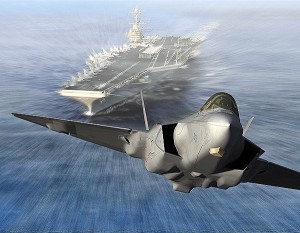 Even amidst technological and political problems, Lockheed Martin seems to have managed to come up with some impressive milestones with it's costliest project in hand yet. The F-35 Lightning II is a 5th Generation fighter, combining advanced stealth with fighter speed and agility, fully fused sensor information, network-enabled operations and advanced sustainment. Lockheed Martin is developing the F-35 with its principal industrial partners, Northrop Grumman and BAE Systems.
Several flight test and production key milestones were accomplished since the last report:
– The F-35B short takeoff /vertical landing (STOVL) jet BF-1 performed the 100th vertical landing for the test program on May 12. For 2011, 106 vertical landings have been performed.
– The F-35A conventional takeoff and landing (CTOL) jet AF-1 flew to Mach 1.53, the fastest-to-date speed of the existing aircraft fleet. AF-7 completed the longest test mission to date lasting 4.1 hours.
– During the month of May, all three variants of the F-35 flew a combined total of 94 System Development and Demonstration (SDD) flights, the most achieved in a single month in program history.
– The F-35 program flew the most flights ever recorded on one day (May 25) when a combined total of 10 flights (includes SDD and LRIP) were completed at all three of its flight test locations at Edwards Air Force Base (EAFB), Calif.; Fort Worth, Texas; and Naval Air Station Patuxent River, Md. (PAX).
– The U.S. Air Force accepted into its fleet, the second of a planned 1,763 production-model F-35 Lightning II stealth fighters when AF-6 was delivered to EAFB on May 13. AF-6 was the second aircraft in Low Rate Initial Production (LRIP) lot one contractually delivered.
– One of the first two F-35A production aircraft that will be delivered to Eglin AFB, Fla., accomplished its first flight on May 13. Known as AF-9, the aircraft will be delivered to Eglin for pilot and maintainer training later this year. This jet is the second aircraft to fly from LRIP lot two.
– Two F-35C carrier variant (CV) aircraft, known as CF-2 and CF-3, were delivered to the F-35 test fleet at PAX. CF-2 was delivered May 16 and CF-3 delivered June 2.
– CF-2 successfully completed the first F-35 public fly by at the Andrews AFB, Md., Joint Services Open House Air Show during the opening ceremony for the event May 21.
The following statistics reflect the cumulative flight test activity totals for 2011:
– F-35A CTOL jets have flown 183 times.
– F-35B STOVL aircraft have completed 166 flights.
– F-35C CV jets have flown 62 times.
– From the start of flight testing in December 2006 through June 13, 2011, F-35s flew 971 times, including the production-model acceptance flights and AA-1.