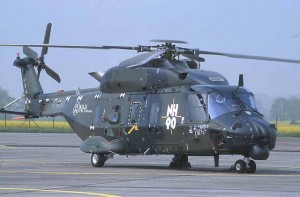 The purchase of NH90 would be great news for the RNZAF (Royal New Zealand Air Force) and a big leap in their capability and technology. The RNZAF used to operate the Iroguois fleet which has been in service since 40 years. The Iroquois no longer offers the load carrying capacity, self-protection, communications or navigation equipment required and available in a modern aircraft. The lack of capacity and capability increases the risk in military helicopter operations and limits the service the RNZAF helicopters can provide and hence the need of change is inevitable.
The NH90 is an advanced medium utility helicopter, capable of undertaking a wide variety of roles. It was developed to meet a European requirement to replace a range of aging helicopters. The NH90 is a product of more than 10 years of development and testing to meet stringent capability and low maintenance requirements. The RNZAF has chosen NH90 because its a modern helicopter, which will form the cornerstone of the New Zealand Defence Force(NZDF) capability over the next 30 years. The helicopter incorporates new and sustainable technologies and will ensure greater compatibility with its security partners. The NH90 represents a substantial improvement on the Iroquois and will provide the NZDF with a contemporary, highly capable and deployable helicopter. The Minister of Defence had signed a contract with NH Industries for the purchase of eight NH90 helicopters.
The fleet of eight NH90s will be acquired with a logistics and support package which includes  a range of ongoing provisions for spare parts, project costs, training, software, publications support and equipment. The total cost of eight NH90s and the full support and logistics package is $771million. The support and logistics costs represent over a third of this total. The budget for the helicopter project has been allocated through the ten-year Defence Long Term Development Plan. The final cost of the aircraft reflects a number of factors including the downward movement of the New Zealand dollar in the year prior to contract.
The exchange rate movements of the New Zealand dollar(NZD) has declined 13% against the Euro since the contract was signed. The decline has largely occured over the last 4 months. Now if you take the $400 to $560M cost quoted in the article for the project and factor in a 13% movement you get $55 to $76M of cost increase due to exchange rate movements.
As per reports there is a $200 million blowout in the project and 27% to 38% of the increase would be due to exchange rates, the majority appears to due to early estimates not including specialized equipment. It is also said that the purchase will be delayed until 2011 – 2012 . Hence only time will tell if this deal goes through smoothly and whether  it is really feasible for New Zealand to buy these helicopters .