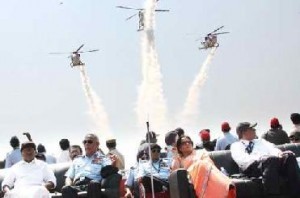 Aero India 2011 has gained a tremendous response with record number of people coming to witness this air extravaganza. The aircraft's and their spectacular manoeuvrings were the cynosure of all eyes at the Aero India show  which was opened for public viewing today. The crowd was eager to have a first hands on experience of flying displays from top-notch aerobatic teams like 'Surya Kiran', 'Sarang' and 'Red Bull'.
The breathtaking display of these aircraft's drew thunderous applause from the gathered crowd. According to preliminary estimates from authorities, the fourth-day of the Aero Show today attracted at least 50,000 people and the numbers could swell on the last day tomorrow.
The crowd was treated to a dazzling display from medium multi-role combat aircraft team of Lockheed Martin's F-16, Boeings Super Hornet F/A-18, Gripen of Saab and Rafale of French Dassault and Typhoon of Eurofighter.
Among the other interests in this year's AeroIndia were the aerobatic displays by the Indian Air Force's nine-aircraft Surya Kirans and the four-aircraft Czech Republic-based Flying Bulls flying the Zlin 50 LX aircraft.
Aero India also has a large civilian aviation component with 54 percent aircraft on display from this sector. Russian Sukhoi, Brazilian Embraer and Ukranian Antonov are some of the passenger plane manufacturers who are here this time around.
It was an additional attraction for some visitors when Indian cricket captain MS Dhoni was sighted at the venue. Dhoni, whose aspirations to fly F-16 fighter aircraft could not be realized as he had not undergone requisite training to fly, however, watched the air display.