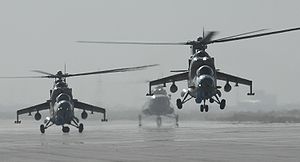 The commander of the Afghan air force air school and the 738th Air Expeditionary Advisory Squadron is charged with training Afghan soldiers to operate in their air force.
Air Force Lt. Col. Ryan Nichols discussed his specialized training facility in an Oct. 28 "DODLive" bloggers round-table.
"(This is) their primary school to train Afghan air force members for their future Afghan air force career," said Colonel Nichols, an F-16 Fighting Falcon pilot. "I'm the commander of the mentor/adviser squadron that teams with the Afghans on that side."
Colonel Nichols said his squadron focuses on introductory academic training and some literacy, as Afghans are trained to be pilots later in their careers at sites in the U.S., United Arab Emirates or United Kingdom.
In the future, he added, pilots will be trained in facilities near Kabul, Afghanistan.
"We have a professions pillar, which is (technical) training," he explained. "There's a leadership pillar, which is professional military education — kind of basic military stuff — and then there's the education pillar, which is literacy programs and English programs."
Colonel Nichols' squadron is made up of about 50 people from the Air Force, Army and Marine Corps, as well as service members from Canada and Portugal. Three-quarters of the unit's members are enlisted service members.
In addition, 70 Afghan staff members work at the school in varying capacities, he said.
Courses are tailored to help students learn things to help them, not only as pilots, but also to help them advance in their military careers, Colonel Nichols said.
"If you look at the enlisted side, the force-development model for a young (Afghan) airman or a young enlisted (Afghan) soldier is (that) at some point they'll progress into (the NCO ranks), and we do have what's called a team leader course, which is kind of the next phase of professional military education that those guys will go through," he said.
The school also offers an introductory course for young officers who will attend squadron officer schools and senior officer courses later in their careers, he added.
Generally, Colonel Nichols said, new Soldiers go through a one-month orientation course, followed by three weeks of literacy courses.
Where they go after that depends entirely on their job and the training they received earlier, he added