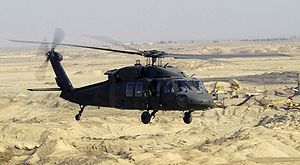 Sikorsky Aircraft Corporation won a contract from the Defense Industry Executive Committee (DIEC) for the delivery of 109 derivative Black Hawk helicopters for multi-mission use by the Turkish Government. Turkish defence minister Vecdi Gonul has named Sikorsky's T-70 Black Hawk as the winner of the nation's general purpose helicopter project. Sikorsky officials will finalize contract details with the under secretariat for Defense Industry (known in Turkey as SSM) and Turkish Aerospace Industries (TAI). Gonul announced the selection following a 21 April meeting by Turkey's undersecretary of defence industries (SSM).
The aircraft will be assembled in Turkey, with TAI serving as the prime contractor, and will include components supplied by Sikorsky and other American and Turkish companies.
A development of the S-70 Black Hawk, the T-70 will be produced in Turkey under an agreement between Sikorsky and Turkish Aerospace Industries. Negotiations will start soon and a production agreement will be signed before the end year of this year.
The DIEC has reported the total program value to TAI at $3.5 billion, inclusive of work to be performed by Sikorsky and other program partners.  As part of its contract proposal, Sikorsky will invest in expanding the dynamic components manufacturing capability of Alp Aviation, which is 50 percent owned by Sikorsky. The industrialization proposal will allow Turkish industry access to the Sikorsky global supply chain, including sale of Turkish-assembled aircraft to future Sikorsky international customers. According to the SSM, Turkey will produce transmissions, landing gears, engine parts and avionics for the T-70, including mission computer hardware.
Ankara will also gain the right to make direct sales of the model to other countries, with the SSM having forecast a market for 600 over the next 20 years. The expected 10-year contract also would include aftermarket support, including training and maintenance, leveraging Sikorsky's and Turkey's existing maintenance infrastructure to provide service and to parts to customers worldwide.
The general purpose helicopter programme is expected to include the production of 20 T-70s for the Turkish land forces, 11 for Special Forces and six each for its air force, navy and electronic systems command. Thirty will go to the nation's Gendarma, 20 to the police and 20 for use as firefighting aircraft by the forest ministry.
"For many years, Sikorsky Aircraft and Turkish industry have collaborated on aero-structures and dynamic component parts, so this contract would follow a longstanding tradition of cooperation," says Jeffrey P. Pino, Sikorsky president. "Sikorsky looks forward to entering into this expanded partnership with Turkey to meet their present and future rotor-craft needs."
"The Turkish Utility Helicopter, derived from the Black Hawk helicopter, will be an advanced, combat-proven, multi-mission helicopter that can meet all the mission and performance requirements. The configuration of the T-70 baseline helicopter is based on the S-70i BLACK HAWK helicopter," explains Mick Maurer, president of Sikorsky Military Systems.
Sikorsky S-70 is in use by the Turkish Armed Forces, Police and Ministry of Environment and Forest for firefighting.