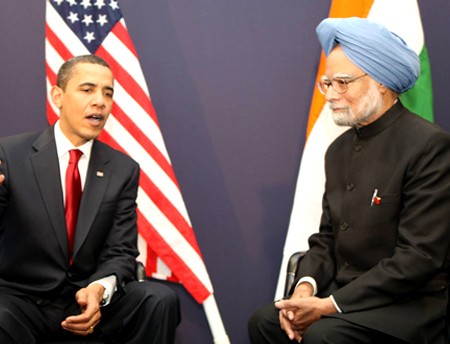 As India rejects U.S. bids from Boeing and Lockheed Martin for the multi-billion dollar order of Fighter Jets, it has now Rafale, Eurofighter to fight it out over IAF MMRCA order. Well-known American experts on South Asian affairs have said India's decision to exclude two American companies, Boeing and Lockheed Martin , from its estimated $ 11 billion 126 fighter jet deal is strategically short-sighted and would be a setback to Indo-US ties.
So Exclusion of US firms from IAF jet deal is really a setback for ties. Nothing much positive in Indo-US ties since nuclear deal can be also seen. But the US won the $2.1 billion contract for P8I naval patrol aircraft and the C-130J transporter for special operations. It is also likely to sign the $5.8 billion contract for 10 C-17 heavy lifters. And Russia walked away with a $30-billion deal for 250 fifth generation fighters and 50 medium transport aircraft.
As Government of India made it clear that the selection procedure were completely on technical evaluation and not political consideration, but still there are unanswered questions over the MMRCA deal. Neither the Rafale nor the Eurofighter have fully operational Airborne Electronically Scanned Array (AESA) radars. Unclear if either Rafale or Eurofighter will clear the commercial offset requirement if neither do then the entire process comes into naught and there will have to be a re-tender or the process will have to be scrapped. On the other hand the US companies have fully operational AESA radars but eventually they were dropped from the deal.
The IAF has only stated that the two European combat planes met most of the 643 parameters for selection of the MMRCA and are the most profitable. Recommendation was on the basis of IAF assessment and technical evaluation of what it needs but there's still uncertainty over the AESA radars and Commercial Offset Requirement. An IAF officer in the know of the evaluation process said none of the six aircraft had fulfilled all 643 parameters, but the European (Germany, Spain, Britain and Italy) consortium's Eurofighter Typhoon and French Rafale had done well on more parameters than others.
India's decision to exclude two American companies, Boeing and Lockheed Martin shows the level of deterioration in India-US relations. From the nuclear liability law onwards, things have not been positive on the India-US front. India believes it bent over backwards to accommodate US concerns during the nuclear deal and in its aftermath, as in the end-user verification issue. The US believed it got short shrift on India's nuclear liability law which makes it difficult for US companies to get into the Indian nuclear power sector. There were also issues when US allowed nuclear deal between China and Pakistan. China will give extra nuclear reactors to Pakistan and there will be no separation of civil and military nuclear sectors as India was forced to do. All this happened with Washington's tacit consent. That went down badly in the Indian system.
Before considering a setback to Indo-US ties we can take a look on the ongoing deals like 3 Boeing Business Jets, 6 C-130J 'Super Hercules', 12 P-8I Poseidon and 10 C-17 Globemaster-III which together cost more than $8 billion.