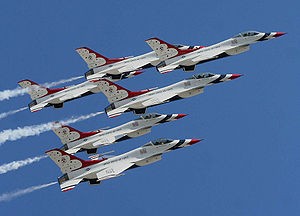 The Air Force Thunderbirds air demonstration team made a special appearance at the Magic Kingdom in Orlando, Fla., Oct. 26 as they flew their famous delta formation over Cinderella's Castle and the theme park's main street. It was one of numerous events scheduled as part of Air Force Week Cocoa Beach.
The theme of this Air Force Week is Honoring Hometown Heroes. During the week, which runs from Oct. 23 through Oct. 31, there will be free concerts, ceremonies, static displays and demonstrations.
Air Force Weeks were established in 2006 by the chief of staff of the Air Force. Air Force Week objectives were to bring together a mix of Airmen, numerous platforms and recruiting assets to provide the big picture of the Air Force mission and its way of life. The first Air Force Week was held in St. Louis in 2006.
The Thunderbirds are the air demonstration squadron of the U.S. Air Force (USAF), based at Nellis AFB in Las Vegas, Nevada. The squadron tours the United States and much of the world, performing aerobatic formation and solo flying in specially-marked USAF jet aircraft.
Officers serve a two-year assignment with the squadron, while enlisted personnel serve three to four. Replacements must be trained for about half of the team each year, providing a constant mix of experience. The squadron performs no more than 88 air demonstrations each year and has never canceled a demonstration due to maintenance difficulty.
In addition to their air demonstration responsibilities, the Thunderbirds are part of the USAF combat force and if required, can be rapidly integrated into an operational fighter unit. Since February 15, 1974 the Thunderbirds have been a component of the 57th Wing at Nellis AFB.