SpaceX Dragon Capsule on a Falcon 9 rocket is all set to launch from Cape Canaveral, Florida at 4:33 p.m. on May 27th, considering favorable weather and no technical issues. NASA astronauts Bob Behnken and Doug Hurley will be on board the spacecraft scheduled for docking at the International Space Station, estimated at 19 hours after launch.
Watch it Live on SpaceX YouTube and NASA YouTube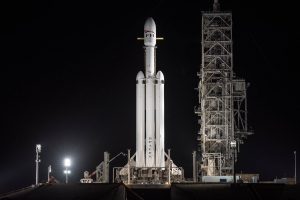 This launch is evoking emotions associated with Yuri Gagarin's orbit of Earth in 1962, and Neil Armstrong's landing on the moon in 1969. SpaceX's epic launch in a few days will mark the first ever human beings launched into orbit in a privately owned spacecraft, and the first-time astronauts have flown from the US since space shuttle missions were put on a hiatus in 2011.
Elon Musk founded SpaceX in 2002 with the mission to explore deep space and to inhabit other planets. NASA partnered with SpaceX during all their missions awarding them and Boeing Co. a combined $6.8 billion in contracts to bolster America's ability to reach the International Space Station without relying on Russian Soyuz capsules, thus transforming SpaceX from a start up to a powerful entity in space missions. SpaceX already makes regular flights to the orbiting space station with the cargo version of Dragon capsule.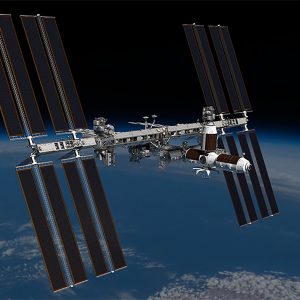 NASA has been discouraging gatherings at Cape Canaveral because of the coronavirus pandemic, saying this would be a good time to follow stay-home orders and watch the proceedings on social media with the #LaunchAmerica event. Vice President Mike Pence and President Donald Trump have expressed their interest in the SpaceX mission. In the case of unfavorable weather, clouds and thunderstorms may delay the launch to Saturday, May 30th, 3:22 Florida time. Just like when SpaceX launched the Tesla Roadster to deep space on February 6th, 2018, aboard SpaceX's Falcon Heavy rocket, this voyage will usher in a new age of commercial space flight, and mark a breakthrough for space development.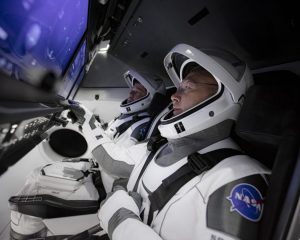 SpaceX's launch on May 27th, dubbed Demo-2, will be the final test for transporting humans into orbit, and mark the last step in gaining NASA's approval for the next stage in human space flight with regular missions having crews onboard to the International Space Station. Bob Behnken and Doug Hurley are scheduled to dock with the space lab on Thursday and will be welcomed by Expedition 63 crew members already in residence aboard the orbiting International Space Station.