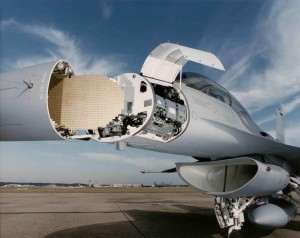 Active electronically scanned arrays (AESAs) have added a new dimension to the demanding fighter aircraft environment, and Raytheon is at the forefront of the radar revolution. The New Advanced Raytheon's Combat Radar, has successfully completed a series of flight trials on a U.S. Air Force F-16 at Edwards Air Force Base, Calif.It is the latest Active Electronically Scanned Array radar which has been incorporated with the   F-16.
The U.S. Air Force and Lockheed Martin jointly conducted the radar demonstration flights. The RACR (Raytheon's Advanced Combat Radar) team highlighted the multirole capabilities RACR could bring to the F-16 Fighting Falcon, which included executing a range of air-to-air and air-to-ground modes.
RACR is the product of company-funded development, leveraging Raytheon's proven capability in providing active electronically scanned array radar technology for multiple platforms.The RACR team completed development in a record 24 months.
"AESA radar technology has become a 'must have' for customers around the world who need to keep their aircraft relevant in the swiftly evolving battlespace," said Jim Hvizd, vice president, international business development, Raytheon Space and Airborne Systems.
"Successfully flying RACR on an F-16 is another critical step in demonstrating how we've optimized our AESA technology for F-16 customers, delivering the advanced radar capabilities they need to maintain an operational edge.
"Raytheon's AESA technology also lowers operation and support costs by an order of magnitude compared with those of mechanically scanned radars, resulting in significant customer savings over the life of a program," added Hvizd.
RACR is part of a family of Raytheon AESA radar systems designed to equip multiple aircraft with a low-risk, high-performance, affordable solution. The radar supports a rapid transition to production, leveraging Raytheon's existing full-rate AESA production lines, providing significant cost and schedule advantages for customers.Raytheon's flexible, modular approach combines proven systems and innovative enhancements to speed delivery of the right solution for a variety of fighter aircraft.
"Raytheon's AESA technology brings unparalleled capability and reliability to the F-16 at an acquisition cost comparable to the old mechanically scanned radars," said Brian MacDonald, RACR program manager, Raytheon's Tactical Airborne Systems.