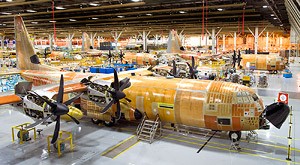 India?s next three C-130Js have now reached the final production positions at the Lockheed Martin Marietta facility. These aircraft will join the previous three, which are already in flight test prior to deliveries that will begin later this month.
The first C-130J for India will be formally delivered on Dec. 16 at a ceremony in Marietta. Two will be flown to India in early 2011, while two more will arrive in early summer and the last two will be delivered in late summer of 2011.
he Lockheed Martin C-130J "Super" Hercules is a four-engine turboprop military transport aircraft.
The C-130J is a comprehensive update of the venerable Lockheed C-130 Hercules, with new engines, flight deck, and other systems. The Hercules family has the longest continuous production run of any military aircraft in history. During more than 50 years of service, the family has participated in military, civilian and humanitarian aid operations.
The Hercules has outlived several planned successor designs, most notably the Advanced Medium STOL Transport contestants. Fifteen nations have placed orders for a total of 300 C-130Js, of which 206 aircraft have been delivered by December 2010