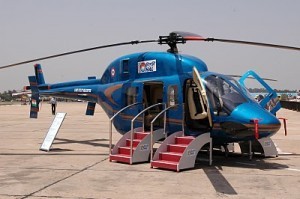 State owned Hindustan Aeronautics Limited (HAL) of India has withdrawn from talks with French engine maker Turbomeca for designing a new engine based on the existing "Shakti" engine for the Indian Light Utility Helicopter (LUH). Reason for this is believed to be fees charged by the French company which HAL considers as exuberant. Turbomeca is a French manufacturer of low- and medium-power gas turbine turboshaft engines for helicopters. The company also produces gas turbine engines for aircraft and missiles, as well as turbines for land, industrial and marine applications.
HAL will now consider the "Shakti" engine for LUH. The "Shakti" engine was developed with the help of Turbomeca for the Advance Light Helicopter "Dhruv". HAL will conduct feasibility study to understand if the "Shakti" engine could fit into the LUH and what changes would be needed. The study is expected to be completed by this year's end. HAL is also currently in talks with other companies for an engine however, it is not known with whom. HAL could be in talks with General Electrics and Honeywells. Also according to Turbomeca the existing twin configuration "Shakti" engine is well suited for LUH.
LUH is a three ton helicopter based on the HAL Dhruv, it is meant to replace ageing fleet of Chetak and Cheetah Helicopters which are in service for more than 40 years. The original plan was to rope in Turbomeca and convert the twin configuration "Shakti" engine into a single configuration engine. The LUH will have both Civilian and Military variants. The preliminary demand for the helicopter is said to be of 187 units but the final order could be thrice as much.
Hindustan's Advanced Light Helicopter (ALH) program was first announced in November 1984, the ALH was designed with assistance from MBB in Germany. The twin 1000 shp Turbomeca TM333-2B turboshafts are mounted above the cabin and drive a four-blade composite main rotor. The ALH makes use of an advanced integrated dynamic system which combines several rotor control features into an integrated module.
A variant of the Dhruv is the Dhruv-WSI (Weapons Systems Integrated) which arms the Army variant with anti-tank and anti-aircraft missiles and a 20-mm turret mounted cannon. In addition to Dhruv-WSI, HAL is also developing the Light Combat Helicopter (LCH) based on the Dhruv platform for the Indian Armed Forces. The armored LCH will feature stub wings fitted to carry up to eight anti-armour missiles, four air-to-air missiles or four rocket pods for 70mm and 68mm rockets. The LCH will also have FLIR (Forward Looking Infrared), CCD (Charge Coupled Device) camera and a target acquisition system with thermal sight and laser rangefinder.