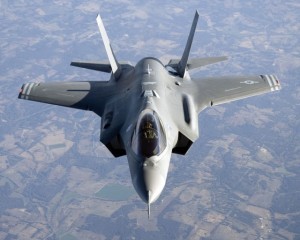 Since the last F-35 flight test program update issued March 31, Lockheed Martin [NYSE: LMT] F-35 Lightning II aircraft have conducted 125 test flights, bringing the total number of flights for the year to 331.
Several flight test key milestones were accomplished since the last report:
The F-35 program flew the most flights ever recorded on one day (May 6) when a combined total of eight test flights were completed at all three of its flight test locations. (Edwards AFB, Calif.; Fort Worth, Texas, and Naval Air Station Patuxent River, Md.)
The U.S. Air Force accepted into its fleet the first of a planned 1,763 production-model F-35 Lightning II stealth fighters when AF-7 was delivered to Edwards Air Force Base, Calif., on May 6. It is the first aircraft from Low Rate Initial Production (LRIP) lot one delivered.
The first F-35A production aircraft that will be delivered to Eglin Air Force Base, Fla., accomplished its first flight on May 6. Known as AF-8, the aircraft will be delivered to Eglin for pilot and maintainer training later this year. This jet is the first aircraft to fly from Low Rate Initial Production lot two.
The second F-35C carrier variant (CV), known as CF-2 completed its first flight April 29. Later this month it is scheduled to be delivered to the F-35 test fleet at Naval Air Station Patuxent River, Md., (PAX).
The program recorded the 300th System Development and Demonstration flight of 2011 on May 6.
At Edwards, F-35s passed the 250 flight mark of the conventional takeoff and landing (CTOL) variant on May 5. The first test jets, AF-1 and AF-2, arrived there on May 17, 2010.
Two more F-35B short takeoff/vertical landing (STOVL) jets, BF-3 and BF-4 performed their first vertical landings. BF-4 flew its mission on April 27 and BF-3 on April 29. STOVL jets have conducted 94 vertical landings to date in 2011.
The following totals and highlights capture the overall flight test activity since March 31, and cumulative totals for 2011:
F-35A (CTOL) aircraft conducted 57 flights. In 2011, CTOL jets have flown 146 times.
F-35B (STOVL) aircraft conducted 43 flights. In 2011, STOVL aircraft have completed 144 flights and 84 vertical landings.
F-35C (CV) aircraft accomplished 25 flights. In 2011, CV jets have flown 41 times.
From the start of flight testing in December 2006 through Tuesday, F-35s flew 878 times.
The F-35 Lightning II is a 5th generation fighter, combining advanced stealth with fighter speed and agility, fully fused sensor information, network-enabled operations and advanced sustainment. Lockheed Martin is developing the F-35 with its principal industrial partners, Northrop Grumman and BAE Systems.
Headquartered in Bethesda, Md., Lockheed Martin is a global security company that employs about 126,000 people worldwide and is principally engaged in the research, design, development, manufacture, integration and sustainment of advanced technology systems, products and services. The Corporation's 2010 sales from continuing operations were $45.8 billion.