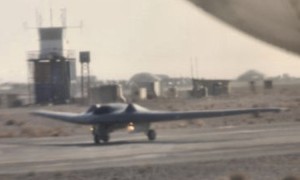 Since the confirmation of the existence of the "Beast of Kandahar" by U.S. Air Force the secret is out of the stealth UAV that was seen flying out of Afghanistan in late 2007. It was the RQ-170 Sentinel developed by Lockheed Martin's Skunk Works as a stealth UAV and operated by the 30th Reconnaissance Squadron of United States Air Force (USAF) and has been deployed to Afghanistan as part of Operation Enduring Freedom.
There is not much record of the operational history since the UAV is kept in top secrecy and no clear photos exist as of now. RQ-170 Sentinels is known to have been deployed to Afghanistan, where one was sighted at Kandahar International Airport in late 2007. In December 2009 there were also reports that the RQ-170 Sentinel had been test-flown in South Korea for the past few months and that it was expected that they would be permanently deployed in 2010 to replace Lockheed U-2 reconnaissance aircraft operating from Osan Air Base. Again there were report in August 2010 that RQ-170s either had been or were about to be redeployed to Afghanistan and that the UAVs had been fitted with a full motion video capability.
Recently U.S. intelligence officials acknowledged that the stealthy RQ-170 Sentinel drone was indeed used to provide ISR support for the raid that killed Osama bin Laden in the Pakistani town of Abbottabad. On the night of 1 or 2 May 2011 at least one RQ-170 monitored the area while elements of the United States Naval Special Warfare Development Group launched an assault on the compound which resulted in bin Laden's death. The aircraft provided footage of the attack which was watched live by President Barack Obama and his senior national security advisors. The RQ-170 also monitored Pakistani military radio transmissions in the area to provide warning of the response to the attack. However there were also speculation that the Sentinel's deployments to Afghanistan and South Korea were probably undertaken to monitor Pakistan and North Korea's ballistic missile programs.
From the low quality images of the Beast that exist aviation experts argue stealth to be moderate, the side views of the aircraft show the belly fairing which looks like it houses an electro-optical/infrared sensor at the front. Some experts are also on the opinion that a side looking AESA (Airborne Electronically Scanned Array) radar could be housed behind it, in the belly supporting all-weather, high resolution radar-imaging by Synthetic Aperture Radar processing. There's still a mystery of the over-wing fairing about what is hidden beneath. Experts like Bill Sweetman of Aviation Week said ""One possibility: they contain antennas that can be rotated, when not in use, to reduce their reflectivity, given that the best bandwidth-selective radome (radar dome) can only do so much. So if your UAV is being illuminated by radar, you turn to place that radar on one side of the aircraft and use the antenna on the opposite, "shadow" side of the aircraft to communicate."
The RQ-170 is estimated by Aviation Week as being approximately 66 feet in wingspan. Some expert suggests that it a wing span of about 46-90 feet with a service ceiling of about 50,000 feet and yet with an unknown engine possibly General Electric TF34. The RQ-170 is a flying wing design and its take-off weight is estimated to be 8,500 pounds. The design also lacks several elements common to stealth engineering, namely notched landing gear doors and sharp leading edges. It has a curved wing platform, and the exhaust is not shielded by the wing. Aviation Week postulates that these elements suggest the designers have avoided 'highly sensitive technologies' due to the near certainty of eventual operational loss inherent with a single engine design and a desire to avoid the risk of compromising leading edge technology. It was also suggests that the medium-grey color implies a mid-altitude ceiling, unlikely to exceed 50,000 feet since a higher ceiling would normally be painted darker for best concealment.
But still many questions remain about the aircraft's use. If it is a high-altitude aircraft it is painted an unusual color – medium grey overall, like Predator or Reaper, rather than the dark gray or overall black that provides the best concealment at very high altitudes
Since RQ-170 is a product of Lockheed Martin's Skunk Works and property of United States Air Force nothing much can be known of it. Experts' claims it could be configured to carry "a high-powered microwave source" to fry computers and electronic equipment on the ground, or an electronic jamming platform to support other aircraft. But at the official level, silence surrounds the Beast of Kandahar and its potential combat or non-combat functions.