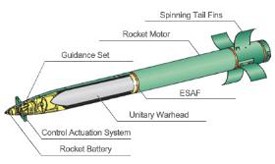 Lockheed Martin successfully launched a Guided Multiple Launch Rocket System Plus (GMLRS+) rocket recently in a test at White Sands Missile Range, NM.
The GMLRS+ rocket, which is equipped with a Semi-Active Laser (SAL) seeker, was fired from the High Mobility Artillery Rocket System (HIMARS) launcher. The rocket flew approximately 40 kilometers downrange, acquired the laser designated target and diverted over 150 meters to the target.
The GMLRS+ rocket is a Lockheed Martin internal research and development program to incrementally improve the combat-proven GMLRS Unitary program. GMLRS+ is anticipated to address operational needs including increased range, scalable effects and fleeting targets.
"We have a very high degree of confidence in the GMLRS program, based upon the tremendous track record of this combat-proven system," said Scott Arnold, vice president of Precision Fires at Lockheed Martin Missiles and Fire Control. "As this GMLRS+ flight test demonstrated, we are adding new capabilities to the combat-proven GMLRS, giving the warfighter another highly reliable and accurate precision engagement weapon."
Primary objectives for this GMLRS+ flight test were to demonstrate target acquisition and the ability to divert the missile to a laser-designated target; obtain technical data to support verification of the performance of the GMLRS+ rocket; and to validate seeker, rocket and launcher system software. Preliminary data indicate all test objectives were achieved. Additional launches of the improved GMLRS+ rocket are scheduled for 2011.
The current GMLRS Unitary rocket is successfully meeting the needs of the U.S. Army, U.S. Marine Corps and British Army artillery units in theater. To date, more than 1,900 GMLRS rounds have been fired in support of troops in ongoing military operations.
GMLRS is the world's premier long-range precision artillery rocket designed specifically for destroying high-priority targets at ranges up to 70 kilometers. Successfully employed in both urban and non-urban environments, it is able to operate in all climate and light conditions while remaining beyond the range of most conventional weapons. Each GMLRS missile is packaged in a MLRS launch pod and is fired from the MLRS Family of Launchers.