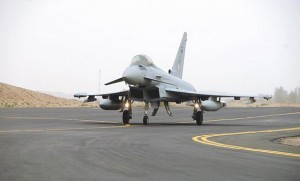 Tranche 3 Eurofighters will be the most capable aircraft in the 3rd stage program, which will incorporate full strike built in capabilities.Tranche 3 Eurofighters would be massively upgraded from the Tranche 1 and 2 versions. Eurofighter wants to convert the aircraft from a highly specialist air-to-air fighter into a multirole deep strike electronic warfare plane that is capable of locating and destroying any powerful enemy air-defence network.
It also would be incorporating an AESA radar. In 2008, EADS submitted a range of procurement options to the aircraft's launch customers  like Britain, Germany, Italy and Spain with the intention of offering them flexibility by dividing promised Tranche 3 orders over time.
The production version of the CAPTOR-E radar was being proposed as part of Tranche 3 of the Typhoon from 2012. Tranche 2 aircraft use the non AESA, mechanically scanned Captor-M which incorporates weight and space provisions for possible upgrade to CAESAR (AESA) standard in the future.
The Italian Air Force doubted that the AESA radar would be ready in time for Tranche 3 production.In July 2010, Eurofighter announced that the AESA radar would enter service in 2015.