Tom Thounaojam:
Tell us a little bit about yourself?
Jim Mumaw:
I'm a funeral director who enjoys aviation as well as other photography. I'm blind in my right eye since birth, but have been very lucky in photography in every way imaginable. Would love to be more ambulatory, I cannot get used to not being able to walk, run or climb like I could a few short years ago.
Tom Thounaojam:
Where do you live?
Jim Mumaw:
Lancaster, California
Tom Thounaojam:
If you could photograph any aircraft from any era what would that be and why?
Jim Mumaw:
I'd love to do an entire photo essay on the SR-71 because for me, it represents a pinnacle of aircraft design and performance in which it was decades ahead of its time.
Tom Thounaojam:
Did you go to school to study photography?
Jim Mumaw:
No, I just learned from what I've picked up from my observation, trial and error, and as well as some words of wisdom from kind people along the way.
Tom Thounaojam:
How long have you been a photographer?
Jim Mumaw:
I was a serious videographer 1986-2006 (feel that experience helped me when it came to stills). I bought my first DSLR the night before the 2007 Point Mugu Air Show. Only had time to read how to charge and load the battery and where to load the card. As it worked out, the images from that very first "serious" outing became the cover story for a publication! "Pacific Flyer", in which I had the honor and pleasure to shoot for (as a hobby) until they've closed up shop this year.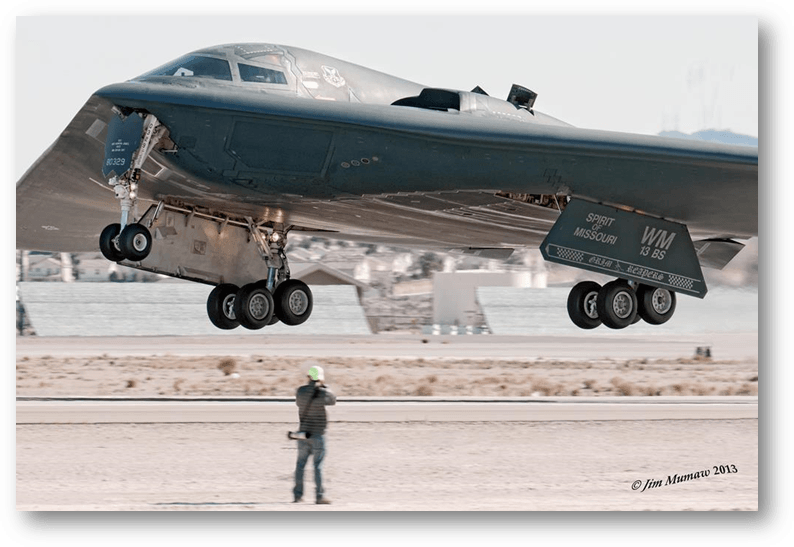 Northrop Grumman B-2A Spirit "Spirit of Missouri" coming in for landing. (Credit and Photo was taken by Jim Mumaw)
Tom Thounaojam:
How would you describe your style?
Jim Mumaw:
I don't really have any style at all. Being blind in my right eye, I just shoot what looks good in the viewfinder as I have no peripheral vision to see the "big" picture. I just try to capture what it is that I enjoy at any particular moment when I'm shooting and do so in a way that brings the spirit of the subject to life as best I can in which cases sometimes, I get lucky!
Tom Thounaojam:
How many air shosw do you go per year?
Jim Mumaw:
Before my health started going badly for me in 2011, I'd get to as many as 8 or so in any given season.
Tom Thounaojam:
What type of cameras do you shoot with?
Jim Mumaw:
I shoot Nikon all the way as that is the system that I am most familiar with the D300 to be exact.
Tom Thounaojam:
What is your favorite photography accessory, other than your camera?
Jim Mumaw:
My imagination.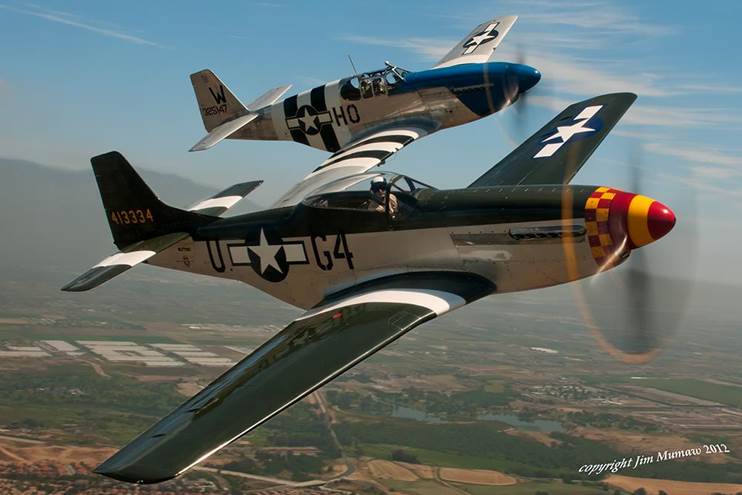 North American Aviation P-51B and P-51D Mustang in formation together. (Credit and photo goes to Jim Mumaw)
Tom Thounaojam:
If you had to choose one lens which one would it be and why?
Jim Mumaw:
For aviation, the majority of my shots are with the Nikon 200-400mm (first generation). The zoom range covers most airborne situations I find. The main exception being large formations during which I'll use my Nikon 70-200mm. My Nikon 18-135mm is great for static displays while my Tokina 11-16mm works well for shots in tight conditions such as aircraft cockpits and etc.
Tom Thounaojam:
Can you describe how and when you use flash, video light, reflectors and natural light during an aircraft photography?
Jim Mumaw:
I'll only use a flash and not the rest of the items mentioned. Basically because I'm pretty simple and I don't want to go through more steps than needed for a shot. I'll use flash conventionally, also rear flash going off after my initial exposure. Fill flash comes in handy as does "painting" certain areas of a subject in very low light with flash while using a long exposure. Until I lost most of my ease of movement, the latter was certainly fun. Moving around quickly, firing off the flash without being in the same spot long enough to register the image.
Tom Thounaojam:
What is your favorite computer/editing accessory, other than your computer?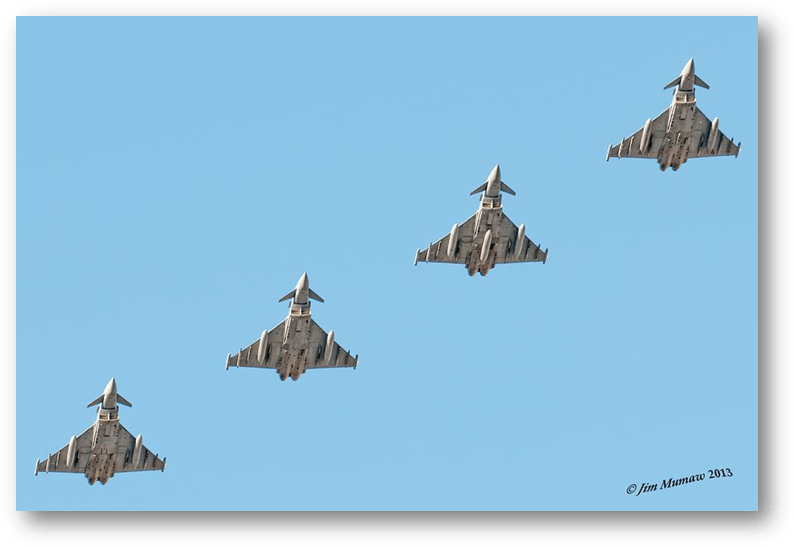 Four EADS Eurofighters of the Royal Air Force flying in formation during Red Flag exercise. (Credit and Photo goes to Jim Mumaw)
Jim Mumaw:
Photoshop 5 as well as some of the NIK programs are my favorite programs.
Tom Thounaojam:
How important is Photoshop in your final images?
Jim Mumaw:
Very important! Whether it's just a small adjustment or a more encompassing treatment of an image, it allows me to come up with how I see the image in my mind.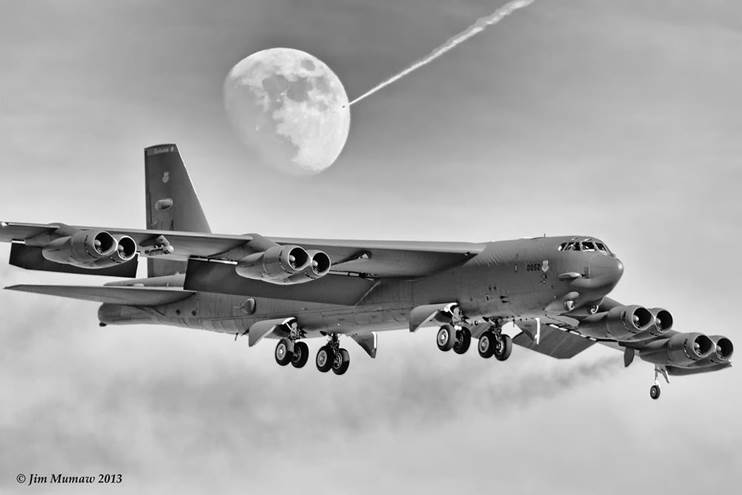 Boeing B-52H Stratofortress on approach to land. (Credit and Photo goes to Jim Mumaw)
Tom Thounaojam:
Are you a MAC or a Windows PC lover?
Jim Mumaw:
Windows PC
Tom Thounaojam:
What is your view on sharing pictures?
Jim Mumaw:
I enjoy sharing my images. To me, the two greatest things about photography are the experience of getting the shot and then the happiness for sharing it with others. My images don't do much good just sitting on a hard drive.
Tom Thounaojam:
How do you feel about cropping an image? What gives your ideas and inspires you to create such amazing imagery?
Jim Mumaw:
I don't know about the "amazing" part of that. I might see something in a motion picture and think to myself how nice that instant would be captured as a still. I might imagine something I want to get on my way to an event or see something developing which might turn into something special. Then there's the split-second when you only have the chance to react instead of plan and, if you're lucky, something nice comes out of it. It all just has to do with being happy in what I am doing.
Tom Thounaojam:
How do you educate yourself to take better photos?
Jim Mumaw:
Practice, Practice, PRACTICE! I'll try (when able) to go to LAX on days with really poor weather for shooting. That was, I not only stay proficient in the mechanics, but also become familiar with the different conditions that present themselves when I'm out shooting.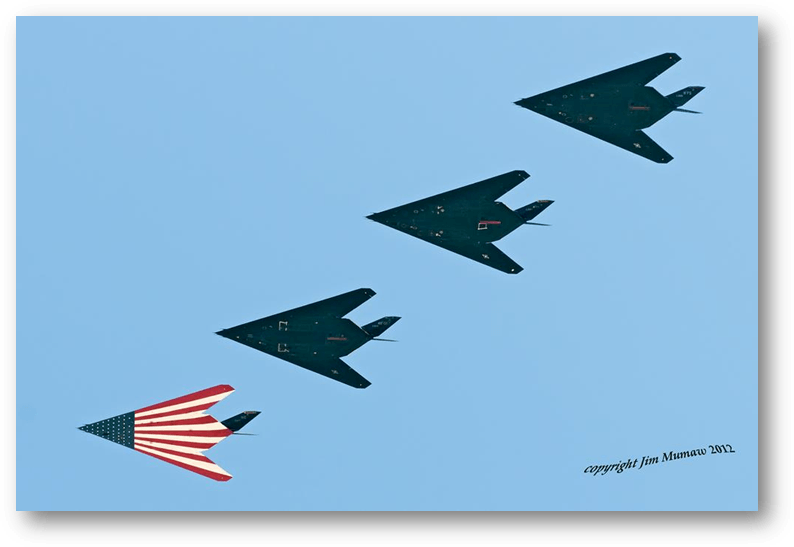 Four Lockheed Martin F-117A Nighthawks flying overhead in formation (Credit and photo taken by Jim Mumaw)
Tom Thounaojam:
What in your opinion people expect from you pictures
Jim Mumaw:
I'd hope enjoyment, that's what I'm trying to bring home after being out shooting.
How do you make the Aircraft look Grand and awesome?
It can be as easy as using the light to full advantage or getting the right angle on the aircraft. Dramatic backgrounds help, but are not always a part of the formula when all you have is blue sky.
Tom Thounaojam:
What is your favorite recent image you have shot recently? Can you describe its creation in regards to location, lighting, composition, and camera settings etc… Also, what are your thoughts when creating the image and what it means to you?
Jim Mumaw:
Aviation-wise, it would have to be the shot of the PBY Catalina at Wings Over Gillespie. I set up to try to get a nice background to show some blur if it made a low enough pass. The angle of the light was a good on and, I hoped, there would be enough of a gap in between the aircraft parked on the ramp to give a full image. By gosh, it worked out as the plane made a pass right where I hoped it would and I was lucky enough not to blow the shot. As for non-aviation images (which can equate to shooting aircraft), I planned and took a very long exposure at Glacier Point, Yosemite. All the planning and speculation of the things I'd need to do come out just right. I had the same thing to face when shooting a Super Hornet at night on the ramp at Burbank Airport but that had the added twist of timing the shot to catch a departing 737 over the Super Hornet. The fourth and last shot of the night was a success! The second shot at Yosemite was of a squirrel. He just popped up on a rock below and in front of me. I had only time to lower the camera, imagine in my mind where it was pointing and shoot without even bending down to look through the lens. It turned out great! I used the same method of trying to imagine what the field of view was without using the viewfinder in a cramped photo plane shooting air to air with two P-51 Mustangs and it also worked even at 1/60th sec. Lucky? Yes! On so many levels! BUT… if I hadn't given it a try, I wouldn't have even had the chance to get the shot.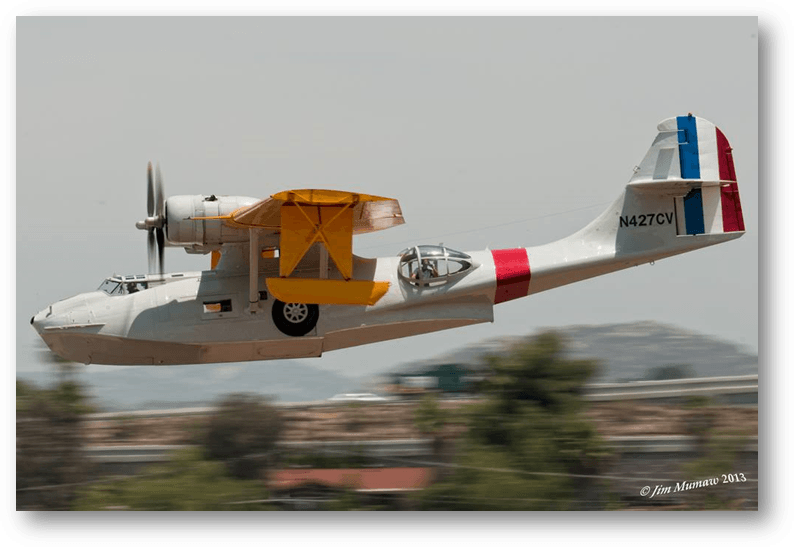 PBY Catalina taken during Wings of Gillespie in 2013 (Credit and photo was taken by Jim Mumaw)
Tom Thounaojam:
What do you feel is the most challenging thing about photographing aircraft?
Jim Mumaw:
The most challenging thing is to try to keep my images fresh and interesting. Photography, in its simplest form is composition of the subject and light (and the way you interpret the composition and how you choose to use the light).
Ever since the rise of the digital camera everyone consider themselves to be the photographer, How much of challenged it is?
With the ability to take pictures becoming more available and the quality of the images becoming better and better, it's a challenge to keep as sharp as I can in my skills both behind the camera and in front of the computer. One thing I just cannot get comfortable with, though, is the sight of people taking pictures with their tablets! Just does not look right! LOL
Tom Thounaojam:
An aircraft photographer who inspires you?
Jim Mumaw:
I'm not being politically correct here at all, but I'd have to say that I get inspiration from nearly every aviation photographer who is out there shooting now or has shot in the past. I'm always finding things in their work that give me ideas. The one aviation artist, though that I can say, hands down, inspires me is William S. Phillips. His painting is what I try to accomplish with my lens.
Tom Thounaojam:
A website and/or blog you visit often?
Jim Mumaw:
Not much really any more. I have a habit of sticking my feet in my mouth with a keyboard so have left all the groups so I don't cause any more troubles.
Tom Thounaojam:
The first aircraft that comes to your mind and why?
Jim Mumaw:
AN-124 basically because I've come so close to catching that rascal and still have not got it on camera. Same can also be said for Marine One too.
Tom Thounaojam:
If not a photographer, what would you have been?
Jim Mumaw:
I am… I'm a fourth generation funeral director.
Tom Thounaojam:
Is there anybody or anything you would love to photograph?
Jim Mumaw:
Well, besides my family of course… I did have a bucket list of what I wanted to shoot. But recently, I looked at the reality of my situation and dumped the whole thing out. I guess I'm just happy with whatever comes my way. For instance, EAA Oshkosh would have been nice as would the Reno Air Races, but both are now beyond my physical capabilities.
Lockheed Martin (General Dynamics) F-16C Fighting Falcon and a Sikorsky UH-60 Blackhawk flying opposite directions!! (Credit and Photo goes to Jim Mumaw)
Tom Thounaojam:
What advice do you have for somebody who wants to pursue aircraft photography?
Jim Mumaw:
First off, love it or leave it. If you don't have a genuine love of your subject and those involved with it, you're not going to enjoy it and you will not get the most out of it. ALWAYS KEEP LEARNING! Keep your eyes and ears open to observe others enjoying their craft or talking about what they did or did not do. Don't be afraid to ask questions. Any true aviation photographer will be happy to answer them so long as there's nothing flying at the time. Any who don't want to be "bothered", I'd say were too caught up with them to learn any good habits from anyway. We know that each of us has someone or something, which inspires our life and work.
Tom Thounaojam:
Can you tell us the true basis of your inspiration?
Jim Mumaw:
My very first inspiration for photographing aircraft came from images in magazines and on the barber shop wall when I was a kid. My first telephoto was a Kodak 110 taped to the left side of a set of binoculars while I sighted trough the right eyepiece.
Tom Thounaojam:
And, would you believe it actually did look like a C-130 when it came back from the developers?
Jim Mumaw:
If you could be invisible for one day with your camera… I'd probably get into a load of trouble!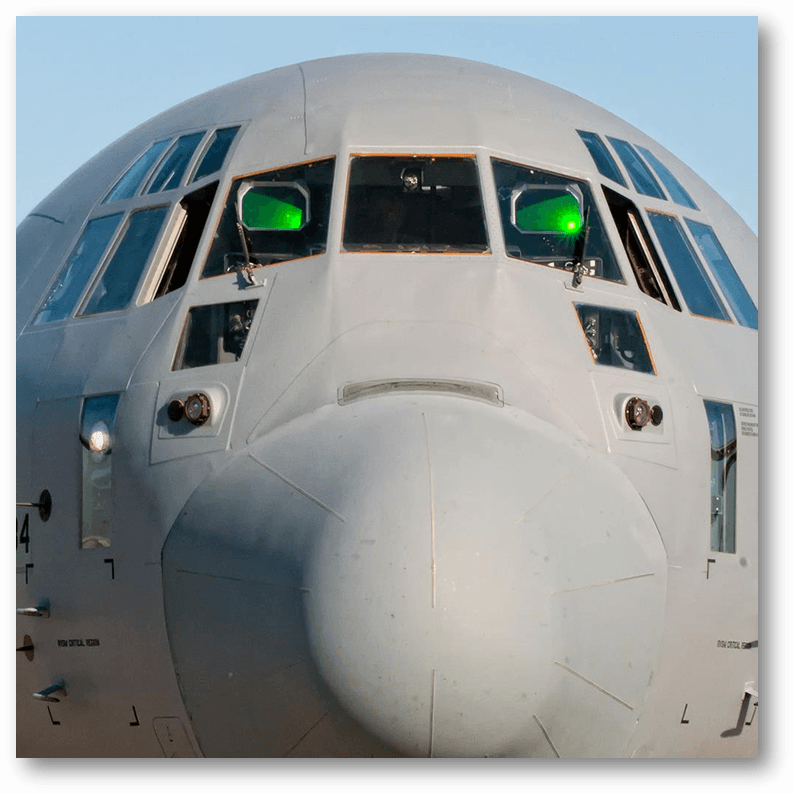 Lockheed Martin C-130 Hercules (Credit and photo was taken by Jim Mumaw)
Tom Thounaojam:
What talent would you most like to have?
Jim Mumaw:
I wouldn't mind being more successful in business… but who wouldn't want that?
Tom Thounaojam:
Something you're still learning?
Jim Mumaw:
When to keep my big mouth shut, mainly when posting.
Tom Thounaojam:
What or who is the greatest love of your life?
Jim Mumaw:
My kids.
Tom Thounaojam:
What is your greatest fear?
Jim Mumaw:
Spiders and my two ex-wives.
Tom Thounaojam:
Something that is overrated?
Jim Mumaw:
People's egos… without a doubt.
Tom Thounaojam:
Something you're saving up for?
Jim Mumaw:
Air conditioning
Tom Thounaojam:
What item do you wish you had designed?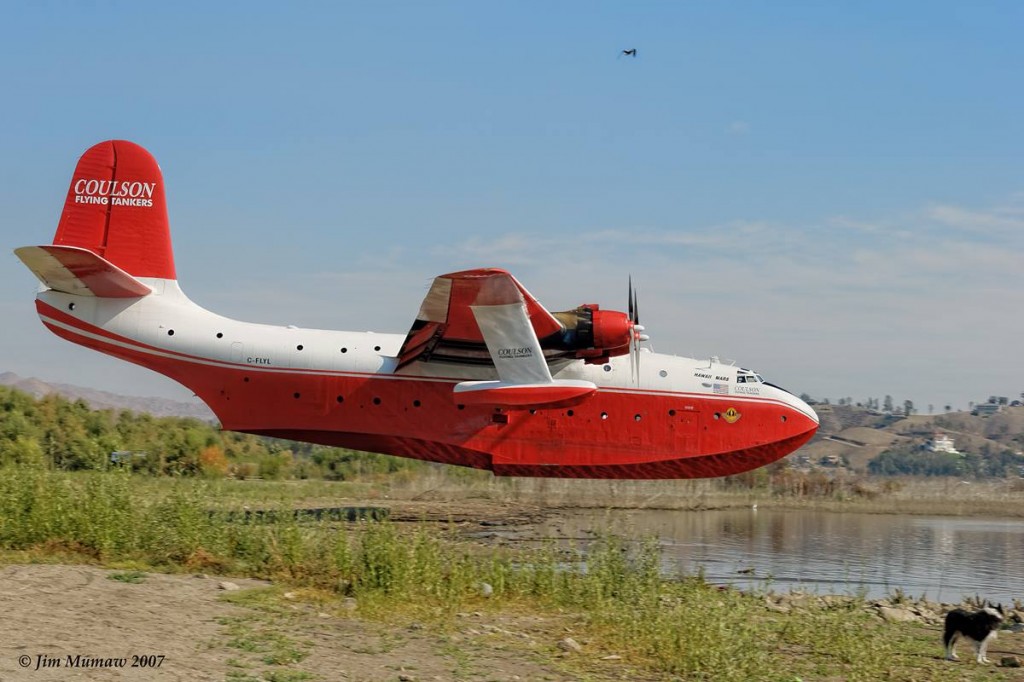 Jim Mumaw:
Paper clip
Tom Thounaojam:
If  you were could given the chance to fly, what aircraft that would be and why?
Jim Mumaw:
Has to be the SR-71 sleek, fast and mean even though its only "weapon" was a camera.
Tom Thounaojam:
Your favorite film (movie) of all time?
Jim Mumaw:
Twelve O'Clock High
Tom Thounaojam:
First thing you would do if you won the lottery?
Jim Mumaw:
Set up my kids for life…. then get that air conditioner LOL!
Interview by Tom Thounaojam
Editor & Chief by Ronnie Serrano