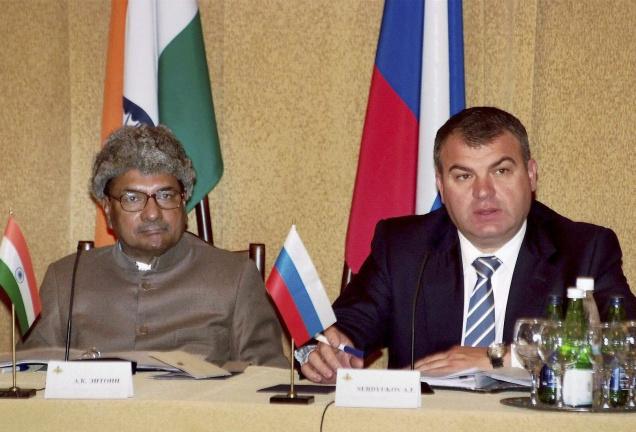 India, Russia to launch fifth generation stealth fighter jets Su-PAKFA by the end of 2009. Russia and India agreed to "solve all problems concerning the joint development of the fifth-generation fighter by the end of the year and embark on manufacture," the defense ministry of India AK Anthony and his Russian counterpart Anatoly Serdyukov said after the ninth meeting of the Russian-Indian intergovernmental commission on military cooperation.
India and Russia on Thursday agreed to formalize two more pacts to further defence cooperation, including extending the Military Technical Cooperation to another decade. The extension pact and another on after-sales product support for defence equipment of Russian origin will be signed during Prime Minister Manmohan Singh's visit to Moscow later this year.
It was announced on 5 May 2007 by Deputy Prime Minister Sergei Ivanov that the first flight of the new aircraft was expected in late 2008, almost a year later than originally expected. That estimate has now been superseded by the statement of Sukhoi CEO Mikhail Pogosyan, who stated at the Langkawi International Maritime and Aerospace (LIMA) 2007 exhibition in Malaysia on December 6 that the prototype will not fly until 2009. This was again confirmed by the deputy prime minister in charge of arms procurement, Sergei Ivanov, in a news conference after a meeting of the Military-Industrial Commission in January 2009. On 28 of February 2009 Mikhail Pogosyan announced that the airframe for the aircraft was almost finished and that the first prototype should be ready by August 2009. On 20 August 2009, Sukhoi General Director Mikhail Pogosyan said that the first flight would be by year end. Konstantin Makiyenko, deputy head of the Moscow-based Centre for Analysis of Strategies and Technologies said that "even with delays", the plane would likely make its first flight by January or February, adding that there could be at least 10 years between the first flight and commercial production.
Sources:
xinhua
Economictimes
TheHindu