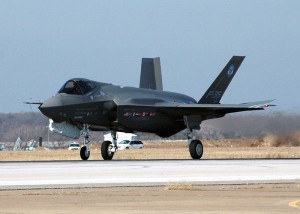 India is not keen enough to  join the US-led Joint strike fighter (JSF) programme or to buy the F-35 Lightning-II fifth-generation fighter aircraft (FGFA). The other fighter aircrafts that are the contenders for the $10.4 billion MMRCA competition include Eurofighter Typhoon, Swedish Gripen (Saab), French Rafale (Dassault) and Russian MiG-35 (United Aircraft Corporation). "We cannot have two types of FGFA. We have already launched preliminary work for our FGFA after inking the $295 million preliminary design contract (PDC) with Russia last month," said a top defence ministry official on Friday.
A top Pentagon official had stated earlier that  US was open to Indian participation in its JSF project. These comments came during a function where India was pitched to select either the American F/A-18 `Super Hornet' (Boeing) or F-16 'Falcon' (Lockheed Martin) over their European rivals in the ongoing MMRCA competition. The MMRCA project involves the purchase of 126 fighter planes under which 18 jets will be bought off-the-shelf and another 108 will be manufactured in India under transfer of technology.
The IAF  in the coming years will have a strength of  270 Sukhoi-30MKIs contracted from Russia for around $12 billion, the 126 MMRCA fighter aircraft's  and 120 indigenous Tejas Light Combat Aircraft, apart from the  upgraded MiG-29s and Mirage-2000s. India is also looking forward to develop the FGFA along with Russia which would incorporate advanced stealth technology. A senior Russian official has stated " Our FGFA will be cheaper than the F-35. Moreover, the intellectual property rights of the FGFA will equally and jointly vest on both India and Russia, with full access to the source code and the like".
The Indian FGFA will be based on the Russian Sukhoi T-50 PAK-FA,but will be built according to IAF's specifications. IAF, for instance, is also keen on a twin-seater version of the FGFA. In fact , IAF recently finalized the technical requirements for its FGFA, which will have long-range strike and high-endurance air defence capabilities. The FGFA will be a swing-role fighter, with very advanced avionics, stealth to increase survivability, enhanced lethality, 360 degree situational awareness, smart weapons, data-links, and high-end mission computers. While fourth-generation fighters typically revolve around multi-role capabilities, FGFA takes it forward by incorporating stealth technology, composite materials, super cruise, thrust-vectoring and integrated avionics as well.
India would be hoping to induct each of the 250-300 FGFA  from 2020 onwards that will cost around $100 million each. In all, India will spend  $35 billion over the next two decades in its biggest-ever defence project till now.