While there are low cost, budget airlines all across the world, this model has seen huge success in Asia and Europe. The magnitude of cost cutting is very significant to the customer because often the cost of a flight on a budget airline will be half or even a third of what you would pay on a regular major airline carrier. So how do low-cost or budget airlines provide cheap fares?
The low-cost principle, relies on the initial cost of the aircraft, efficient connections, avoiding luxuries, cutting down on personnel, using "minor" airports and automating their ticketing and boarding procedures. This way budget airlines can have larger profit margins and stay in business longer than major airline carriers.
Budget airlines look for times when aircraft can be purchased for cheaper rates, and place massive orders for only one type of model of aircraft, such as a Boeing 737 family or Airbus A320 family. Purchasing in bulk ensures them unbelievably low prices and it is important because the newest aircraft are the most fuel efficient. This saves a large amount in fuel costs, and the higher efficiency offsets the initial purchase price given a certain amount of time. Most budget airlines have newer and younger fleets.
Another advantage of having only one type of plane is that pilots, crew, flight attendants, mechanics and ground staff are trained on one type of aircraft. This saves enormous amounts of time and money for the airline. The airlines also avoid any type of luxury to keep costs down. For example, seats will not recline because reclining seats cost more and also flight attendants do not have to clean the pockets behind seats between flights.
Budget airlines lack any onboard entertainment systems, this saves the airlines millions of dollars in retrofitting the hundreds of aircraft with these systems and buying rights to screen media content.
Flight attendants on budget airlines are usually at the beginning of their careers and are usually paid less than the full-service airlines. They receive little training in terms of hospitality but have the required mandatory safety training. They will serve multiple roles as well, while some attendants work as ground staff checking tickets, others will clean the aircraft. The airline, therefore, will eliminate positions they normally pay for. Food and drinks on budget airlines are often charged and this provides an excellent way to make money. Many budget airlines also sell duty-free items, some go as far as selling lottery tickets (Ryan Air) and SIM cards (AirAsia).
Landing and taking off at a major airport hub works out to be very expensive for airlines because of the charges that airports impose for this service. So, budget airlines choose a closer airport that is a drivable distance from the city center to operate from. Not only are the landing fees lower, their slots are not regulated and the chances of delays are greatly reduced. Smaller airports outside main cities are often used by only one or a few budget airlines, which mean the carriers have massive negotiating power. They may go as far as rebranding it and will ask for lower landing and takeoff fees. If the budget airline cannot find a viable, cheap airport, they can fly to a major airport at less busy times for lower fees.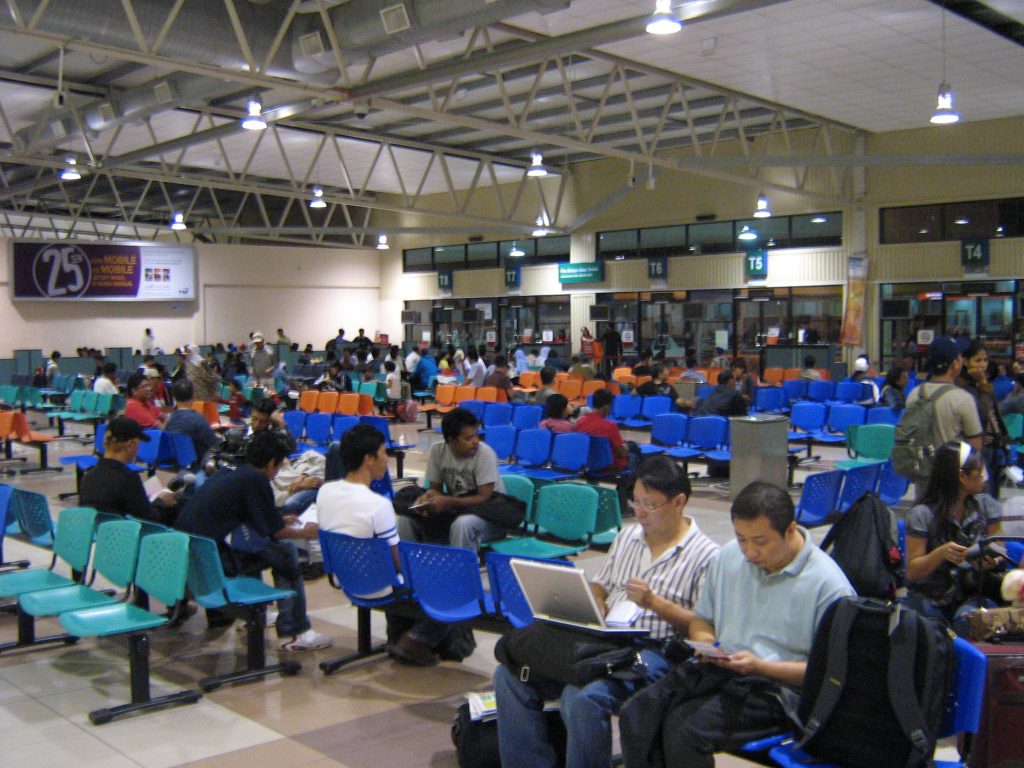 The planes of such airlines are always flying, with only about 35 minutes between one flight and the next. In one day, the same aircraft will fly to multiple destinations. This also means that passengers are not paying for the idle time the aircraft spends on the ground and the airline is always making money. By having a First Come First Serve basis for seat reservation, passengers are likely to show up early at the gates.
Budget airlines also operate on a point to point model in terms of the source to destination. While major airline carriers have a hub that they operate from, taking a flight with them means you usually have to connect through that major hub. Connecting flights are usually not encouraged by budget airlines because of the costs involved in transferring luggage. A more complicated ticketing system would also have to be produced which adds costs. Because, if the passenger is delayed on the first flight, the airline will have to pay for the connecting flight that they missed or put them up in hotels till they can take another flight.
The ticketing system on budget airlines is mostly automated and so is the check in process. Again this cuts down on personnel costs. They won't use jetways for their boarding process because it is expensive, and instead will have the passengers use the stairs after walking across the tarmac or by taking a bus to the plane.
In the end, this means that budget airlines will have extremely large profit margins compared to major airlines. Budget airlines business models works, because they are so large and flexible. They have hundreds of planes, hundreds of destinations, thousands of employees and massive negotiation power that allows them to win the competition.