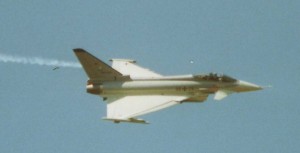 NATO has chosen a squadron of German Eurofighter Typhoon's for air surveillance of the Baltic States Lithuania, Estonia and Latvia. Eurofighter is not only a modern advanced fighter jet but also a surveying aircraft. Italian Air Force had earlier send their Typhoon Squadron to Albania.
The 74th Squadron of the Luftwaffe based in Neuburg will be stationed in Siauliai, northern Lithuania, and is the first time the German air force will use their Eurofighter Typhoons abroad. The operation takes place under the "Air Policing Baltikum" mission, by which NATO committed itself in 2004, to regulate the air space of the Baltic States as long as the countries can not provide for this themselves.
The Squadron will be committed to their mission until November, when the 74th squadron will be released from its duties, and the 71st F-4F Phantom Squadron takes over surveillance from there on. Until now 14 nations have been involved in this air policing mission, and the German Luftwaffe will be in charge until the beginning of 2010.