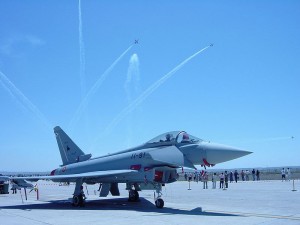 The Eurofighter Typhoon? made its first landing today in Bengaluru for Aero India 2011 to be held from February 11th to 15th. Two Eurofighter Typhoons of the Italian Air Force arrived  in Bengaluru today to showcase their outstanding operational capabilities at Aero India 2011. This is the first visit by Eurofighter Typhoon to India and it is surely going to enthrall the visitors attending the 8th edition of the Indian aerospace exhibition with breathtaking aerobatics and manoeuvrings.
Eurofighter is one of the six fighter aircraft producing companies which has pitched in for the MMRCA deal, estimated to be worth a whopping USD 11 billion. The MMRCA deal is an ongoing competition to supply the Indian Air Force with 126 Multi-Role Combat Aircraft in order to modernize and expand the Indian Air Force. The Defence Ministry of India has allocated INR 42,000 crore (US$9.11 billion) for the purchase of these aircraft's. The IAF has already forwarded it"s report to the Defence Ministry after conducting flight trials of the six contending fighters including the Typhoons.
The Eurofighter Typhoon has also offered India seem-less development partnership and EADS (European Aeronautic Defence and Space Company) is already helping to develop India's LCA(Light Combat Aircraft's). If  Typhoon wins the contract , India would be invited by the Eurofighter Typhoon program to become a partner and will be given all technological and developmental aid. Eurofighter Typhoon also provides no end user restrictions and they also have an easy transfer of technology
There are six companies that have been approached for this multi billion dollar contract , which is the single largest defence deal ever for India. India aims to procure 18 aircraft's in flyaway condition and produce 106 locally under license through technology transfer. These Six major aircraft's are Lockheed Martin's F-16IN Super Viper and Boeing's F/A-18E/F Super Hornet from the United States, Russia's Mikoyan MiG-35, France's Dassault Rafale, Sweden's Saab Gripen and the EADS Eurofighter Typhoon. Each company is expected to bring along  at least two competing aircraft's as well as flight simulators for display.
Aero India-2011, which will be held in the southern city of  Bengaluru on February 11th to 15th, would attract a record number of leading manufacturers, vendors and suppliers from 63 countries. About 675 exhibitors are also expected to participate in the biennial show to be held at Yelahanka air base, making it the biggest edition of the event so far. Aero India show displays the civil and military air-crafts and other latest products from the Indian aviation and aerospace industry. This is the Asia's largest exhibition, which is held once in two years. There will be two shows every day for general visitors at the Air Force station in Yelahanka from 10am to noon and from 2:30pm to 5pm.