The World's largest plane will soon be resurrected. China will sign a deal with Ukraine to breathe new life into the Soviet-era manufacturing program for the production of the AN-225, which is a strategic, airlift cargo aircraft designed in the Soviet Union in the late 80s by Antonov Design Bureau. With a maximum payload of 250 tons for cargo, the AN-225 is considered to be the world's heaviest aircraft. By building the AN-225, China is vying to boost its power projection capabilities, not just in South East Asia, but across the entire world. In late August 2016, the Aviation Industry Corporation of China (AICC) signed a deal with Antonov Corporation, Ukraine's leading aviation company, to restart production of the AN-225, the world's largest aircraft.
The AN-225 owes its large size due to the fact that it was designed to transport the massive Soviet Space Shuttle – Buran in its initial mission. The Buran (Soviet Space Shuttle) weighed a whopping 105 tons and was carried by the AN-225 to its launch site. The aircraft had been put into storage after the collapse of the Soviet Union and the space shuttle program was subsequently abandoned. Tipping the scales at 640 tonnes, the AN-225's power plant is 6 × ZMKB Progress D-18 turbofans, producing a mind-boggling 229.5 kN (51,600 lbf) thrust each. It measures 84 meters across, has a wingspan of 88 meters and can carry 300,000 pounds more than the Boeing C-17 of the US military. The aircraft has been used to fly ultra-super heavyweight payloads like gas and wind turbines as well as augmenting NATO operations in the Middle East.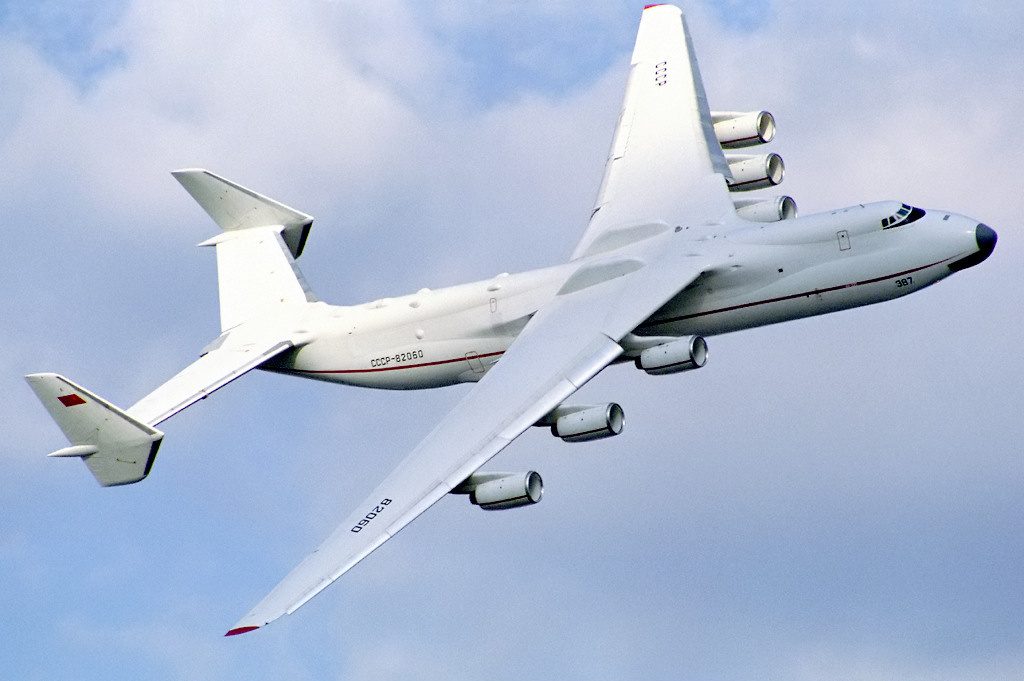 In the second stage of this project, Ukraine will provide a complete transfer of technology for the turbofan engines to be license produced in China's Sichuan Province. The Antonov Corporation has previously also provided China with design and technical advice for the ARJ-21 jetliner and the heavy Y-20 transport aircraft.  China's close relations with Russia have not hampered deals with Ukraine, recently Russia and Ukraine have not been in good terms.  The Chinese Government has provided strong support for this deal, despite the fact that China's Aviation Industry Corporation is rather small compared to the Antonov industrial giant. AICC has an extensive production base in Sichuan and the Government is eagerly looking forward to this joint venture.
This new version of the AN-225 lays greater emphasis on internal cargo transportation, compared to its older brother that carried the Buran space shuttle on its back. Its fuselage is almost 70 % complete and it has been designed with a single vertical stabilizer tail and a rear mounted cargo door that will make loading and unloading payloads such as battle tanks, military cargo, missile launchers and heavy artillery much more efficient and effective.  A fleet of AN-225s could find applications in the transportation of heavy, bulky cargos on a massive scale, humanitarian efforts, disaster relief operations and also carry infrastructures such as power generators and water treatment machinery that would normally be too big for airlift.
In terms of military prowess, the AN-225 is large enough to transport helicopters, ballistic missiles, super-heavy-duty tanks and even smaller fighter jets around the world. This would rival even the US airlift capabilities that usually rely on renting such big aircraft for their operations. Other military applications come from its unparalleled payload that could transport space shuttles (or even launch them mid-flight), and launching drone operations from a mother ship.
AN-225s performance specifications, it can achieve a maximum speed of 850 km/h with a cruising speed of around 800 km/h at a service ceiling of 11,000 meters. The range for this aircraft stands around 15,400 km, although with a 200-ton payload, a range of 4,000 km can be attained. This doesn't seem too farfetched considering it has a fuel capacity of 300,000 kg and can carry up to 640,000 kg at take-off along with a crew of 6.
China is investing heavily in its global airlift and sealift capabilities and sees the AN-225 as an asset to its military and commercial operations.  Building the world's largest aircraft and having access to its design and technologies for domestic production seems in line with China's economic and military ambitions. Aviation Industry Corporation of China is looking to put this behemoth in the skies by 2019. A completely Chinese version of the AN-225 should be completed by 2020 and this would open up new frontiers in air transportation, both for China's military and commercial requirements.