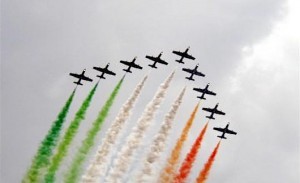 Come Wednesday 9th Feb,  Aero India 2011 (to be held in Bengaluru) will kick-start and is expected to attract a record number of over 600 manufacturers, vendors, and suppliers from 63 countries. Aero India has grown in scope over the years and has become one of the most sought after Air fairs in Asia and the whole world. The civil and military aviation manufacturers from 30 countries – including the US, Britain, Russia, France, Germany, Italy, Israel, Belgium, Brazil, Spain, Ukraine and the Netherlands – will participate in the Aero India 2011 . It is highly expected that these Six aircraft companies will display their advanced aviation capabilities to win the MMRCA tender which is slated to finalize in July this year. Defence Minister A.K. Antony will flag-off the air show in the presence of Minister of State for Defence Production M.M. Pallam Raju, chiefs of the Indian armed forces and military delegations from the world over.
Mr A.K Antony, India's Defence minister said " India has chalked out a road-map to develop many challenging aerospace programmes and expressed confidence of great opportunities, not only for indigenous institutions and industries, but also for all partners across the globe." "I do not think any country in the world, however friendly they are, would like to part with their most modern 'A' grade technology with any other. That is the reality," he said, inaugurating the eighth edition of Aero India 2011 International Seminar here. "Until we gradually develop our own strong technological base in critical technologies we cannot say India has come of age," he said while reiterating thrust on achieving self-reliance in critical defence technologies.
Aero India 2011 will also showcase the MMRCA contenders bidding for $11 billion contract. The Medium Multi-Role Combat Aircraft (MMRCA) Competition,  commonly known as the MMRCA Tender that involves six contenders bidding for the deal, will be showcasing their full flight display at Aero India 2011. The MMRCA deal is an ongoing competition to supply the Indian Air Force with 126 Multi-Role Combat Aircraft in order to modernize and expand the Indian Air Force. The contest between these six, this time round, will be there for all to see with these aircraft's displaying their skills and maneuverability to win the hearts of the Indian Air Force and ministry of defence experts who are expected to place a finger on one of them for procurement. Only the heavy Russian MiG-35, the sixth competitor in the fray for the MMRCA order, will not fly this time.
The IAF is procuring the 126 MMRCAs to bolster its depleting squadron strength. The IAF squadron strength is at present below the sanctioned strength — just 34 squadrons as against the sanctioned strength of thirty-nine-and-a-half. Due to the depleted squadron strength, the IAF's combat edge/air-superiority over adversaries is under a cloud. The depletion is mainly because most of the aircraft in the IAF's stable are old and became obsolete in mid-1990s, forcing replacement of a majority by 2010.
Even with the planned MMRCA procurement, the IAF will reach its sanctioned strength only by 2017. India's indigenously developed fighter LCA Tejas will be seen for the first time in its true role of a combat jet at  Aero India 2011 on the outskirts of this aerospace hub. The IAF plans to induct about 200 Tejas aircraft's over the years and increase its squadron strength to 39-40 along with 220 of the Russian made Sukhoi-30MKI, another 126-194 medium multi-role combat aircraft (MMRCA) and the fifth generation fighter aircraft that is being jointly developed with Russia.
Aero India 2011 will also witness the largest US participation till date. Top advanced aircraft's like F-16 Fighting Falcon, F/A-18 Super Hornet, C-17 Globemaster III, C-130J Hercules (recently procured by India) and KC-135 Stratotanker will be on display and participate in numerous flight demonstrations. Russia will exhibit over 80 types of weaponry and will be represented by 35 companies at the upcoming Aero India 2011 air show. Russia will be represented by 35 companies, including MiG , Sukhoi, Almaz-Antei and Engineering Design Bureau.
Russia will traditionally promote  Su-35 fighter jets, the Yak-130 combat trainer, two versions of Il-76MD transport plane , the Il-78MK aerial tanker and MiG-29K and MiG-29KUB naval fighters. The Be-200 amphibious aircraft will most likely be one of the top attractions of the Russian exhibit as its popularity with foreign customers steadily grows. Rosoboronexport and Russian helicopters will show the Mi-28NE attack helicopter, the light multirole Ka-226T and the heavy transport Mi-26. The Czech Flying Bulls Aerobatics Team, will be performing at the Aero India 2011 with their fleet of four Zlin 50 LXes. The Flying Bulls' 17-minute performance will include the box formation and the mirror flight.
About 675 exhibitors are also expected to participate in the biennial show to be held at Yelahanka air base, making it the biggest edition of the event so far. Around 100 types of civilian and military aircraft's would be on display compared with 67 in 2009. This year's air show will outnumber all previous figures in terms of participating countries, companies, space and business, with a 70 percent increase in gross exhibition area to 75,000 square metres from 44,000 square metres in 2009. Of course, not to forget, the breath-taking air displays are bound to enthral Bengalureans, especially on the weekends of February 12th and 13th.