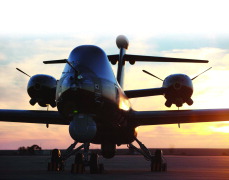 During subsequent flights, MANTIS successfully completed a series of trials demonstrating the capability of the system and the potential of large unmanned systems to support future UK Ministry of Defence (MOD) operational needs. The MANTIS programme is jointly funded by UK MOD and UK Industry.
Defence Equipment & Support Director Combat Air, Air Vice-Marshal Simon Bollom, said: "These trials at the end of this technology demonstration programme have successfully demonstrated a number of key factors that have helped build confidence in the feasibility of a UK-derived medium altitude long endurance unmanned aerial system".
During phase one of the programme, BAE Systems has been working alongside the UK MOD and key industrial parties including:
• Rolls- Royce – Integrated Propulsion System & Engine Clearance
• QinetiQ – Flight Termination System and Communication System
• GE Aviation – Electrical Power System and Primary Flight Control Actuation
• Meggitt – Electrical Braking System.
• Selex Galileo – future Mission Systems and Sensor requirements.
Chris Allam, Managing Director of the Autonomous Systems & Future Capability business within BAE Systems, said: "This achievement is testament to the can-do approach of the whole team working on this programme. MANTIS has gone from concept to flight in just 19 months and the MOD, BAE Systems and a number of industry parties have worked together to make this happen. It confirms the skill and innovation within the UK aerospace sector and the ability to move quickly from concept to reality."
MANTIS has a 20 metre wingspan and is BAE Systems' first all-electric aircraft. The system is intended to be easily deployable and can be broken down to fit into a military transport aircraft. MANTIS is designed to be a real workhorse with "plug and play" elements in the mission system and the ability to carry a wide range of sensors.
MANTIS is a fully autonomous next generation unmanned aircraft system. It can execute its mission with a much reduced need for human intervention by understanding and reacting to its environment. Such autonomy increases operational effectiveness allowing more focus on the mission without the usual concerns over vehicle control. It also reduces manpower requirements and the risk of accidents due to human error and the communications/data link requirements between the vehicle and the ground.
MANTIS could carry out intelligence gathering at long distances and can carry significant payloads in terms of sensors and, potentially, weaponry.
The MANTIS system will feature an end to end information capability, which will facilitate full integration with the UK's C4I infrastructure, significantly enhancing sovereign operational capabilities. In today's high tempo operational environment improved situational awareness and decision-making are achieved through this integration activity. MANTIS shares a common UAS control infrastructure with other BAE Systems UAS' such as Taranis and HERTI.