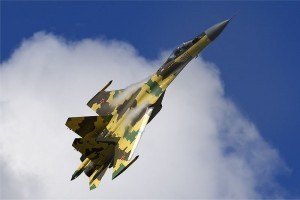 The Komsomolsk-na-Amure-based Yuri Gagarin Aviation Industrial Concern (KnAAPO), incorporated by the Sukhoi Holding Company, and Sberbank (the Savings Bank of Russia) concluded on September 15th 2010, a general agreement to build the Su-35S multi-role fighter. The document was signed by Alexander Pekarsh, KnAAPO director general, and Olga Bukhankova, head of the Savings Bank central division in Komsomolsk-na-Amure. The signing of this agreement will provide long-term funding for one of Russia's largest aviation enterprises and ensure the series production of aircraft on time.
The state's contract under which Sukhoi must supply, by the year 2015, the Defense Ministry with 48 super-maneuverable Su-35S fighters was signed in August, last year, at the MAKS-2009 aerospace show. The series production of aircraft, the first of which was handed over to the Defense Ministry late this year, was organized at Sukhoi's facility in Komsomolsk. The fighter is also intended for the foreign market. Talks are underway for the supply of aircraft to customers in Southeast Asia, Middle East, and South America for re-equipment of their air forces.
The Su-35 is a thoroughly modernized super-maneuverable multi-role fighter of the 4++ generation. It employs the fifth-generation technologies giving it an edge over the same class fighters.
The special feature of the aircraft is a new avionics suite based on a digital information control system, integrating onboard instrumentation, a new radar with a phased antenna array capable of detecting a larger number of air targets with their simultaneous tracking and engagement (tracking of 30 and engagement of 8 air targets along with tracking of 4 and engagement of 2 ground targets), and new increased and vectored thrust engines. The Su-35 features a wide array of long-, middle- and short-range weapons. It carries guided munitions for resisting radar systems and fighting ships, general purpose weapons, guided aerial bombs and unguided missiles. The radar signature of the fighter, as compared to that of the fourth-generation, has been reduced by several times thanks to the current-conducting coating of the cockpit, application of radio absorptive surface materials and reduced number of protruding sensors.
The aircraft's service life is 6,000 flight hours, the life cycle is 30 years, and the designed operating life of the adjustable nozzle engines is 4,000 hours.