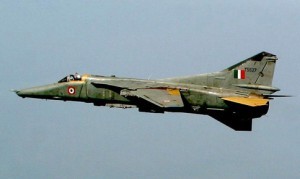 A Indian Air Force MIG-27 crashed in West Bengal. This is the third MIG-27 crash this year for the Indian Airforce.
Early this morning, a MIG- 27 Aircraft of the Indian air Force crashed in Midnapore District of West Bengal.The crash took place around 8:25 AM IST, east of Kalaokunda air base in duria village, West Bengal, when the aircraft was on a routine flight session.
"The pilot managed to eject and is unharmed. The crash did not cause casualties or destruction on the ground," Mahesh Upasani said, adding that "investigation into the crash was under way",a spokesman for the Indian Army Eastern Command said.
Indian Airforce had already suffered two MIG-27 crashes this year, the first one in West Bengal
near the Hashimara military base killing the pilot and causing temporary suspension of MIG-27 flights and the other one in a village in the same region killing one person and injuring 10 people when the aircraft was on a routine flying session.
The MiG-27 aircraft was originally built in the former Soviet Union in the mid-1970s and thereafter it was licensed to be produced in India.
Indian Airforce currently operates about 148 MiG-27 planes and there are plans for upgrades  to keep the MiG-27 operational for another 10 years.