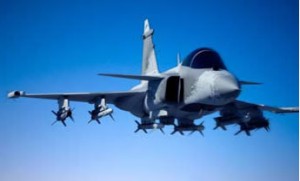 SAAB (Svenska Aeroplan AB) is offering Brazil with a complete solution. Gripen NG is a multi-role fighter aircraft with built in Net centric warfare (NCW) technologies and capabilities developed specifically for Brazil. Gripen NG  is meeting every operational requirement raised by the Brazilian Air Force in all roles which include Air to Air combat, BVR/WVR, Air to Surface land and sea, and reconnaissance.
It provides an autonomous multi and swing role capability in normal and hostile FOB operations, and acts as a perfect force multiplier. It has a substantially lower real Life Cycle Cost than its nearest single engined competitor and is able to operate at a fraction of the cost of its twin engined competitors.
On selection, SAAB Gripen NG an advanced multi-role fighter would be made in Brazil. A major part of all Gripen development work would be the responsibility of Brazilian industry. Gripen technology produced in Brazil would not be produced anywhere else in the world, which means that Gripen systems made in Brazil would be fitted in every new Gripen fighter manufactured.
"Through decades, the Brazilian and Swedish trade unions have enjoyed good and deep relations. I believe that this would develop even further with an industrial co-operation such as the Gripen NG programme. In the end, the creation of sustainable jobs will bring a greater value to the Brazilian society." Stefan Löfven, Metal Worker's Union, Sweden
As a Next Generation multi-role fighter Gripen NG has the operational range, payload and built-in Net Centric Warfare (NCW) capability to meet all the roles as defined by the Brazilian Air Force. Brazil's NCW capability should be enhanced by operating the Gripen NG in combination with the Embraer E-99 ERIEYE system.
Other features of Gripen NG includes a fully integrated sensor suite with total weapon flexibility and is able to carry weapons sourced from suppliers worldwide. Survivability is assured through a balance between low radar, Infra-Red and visible signatures and a highly advanced modular Electronic Warfare and Self-Protection system.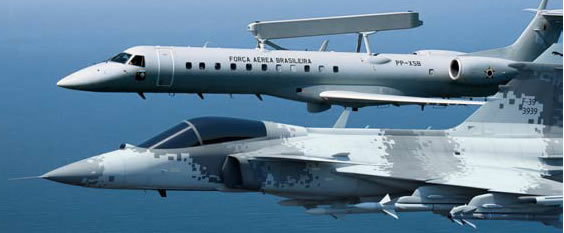 The logistics concept is designed to meet the requirements of the Brazilian Air Force and makes maximum usage  of existing Brazilian infrastructure.
Gripen Next Generation (NG) is an enhanced version of the already proven and in-service Gripen C/D multi-role fighter.Designed for combat, Net Centric Warfare (NCW) environment Gripen's flexible and modular design makes continuous development and enhancement both low risk and cost effective. The Gripen NG programme covers development of all major sensors and avionics including data communication, self-protection systems, weapons integration, as well as airframe and propulsion enhancements.
The Brazilian involvement in the Gripen NG design and development has given the Brazilian Air Force and industry access to all levels of technology.
"The Gripen fighter gives us the strategic, operational and tactical flexibility that we need in an ever changing world.In the strategic tier, the Gripen provides the decision makers with flexibility to change its operational capabilities over time through an ever ongoing step-by-step development." Major General Anders Silwer, Chief of Staff, Swedish Air Force