Red Flag is an advanced aerial combat training exercise hosted at Nellis Air Force Base, Nevada and Eielson Air Force Base, Alaska. The latter location is known as Red Flag, which is a successor to Cope Thunder exercise series which was held in Western Pacific and Alaska. Air crew from United States Navy (USN), United States Marine Corps (USMC), United States Air Force (USAF), United States Army (USA) and 17 other Air Force and Marine Corps squadrons as well as aircraft from the United Kingdom and Australia participate in these training exercises.
More than 125 aircrafts depart Nellis twice a day under the Red Flag 15-1. The pilots stay up in the air for up to five hours to practice their combat maneuvers. The training exercises include air, space and cyber forces which are according to the release from the 99th Air Base Wing at Nellis. This exercise is assigned to the 57th Wing at Nellis which takes place on the Nevada Test and Training Range north of Las Vegas administered by the 414th Combat Training Squadron.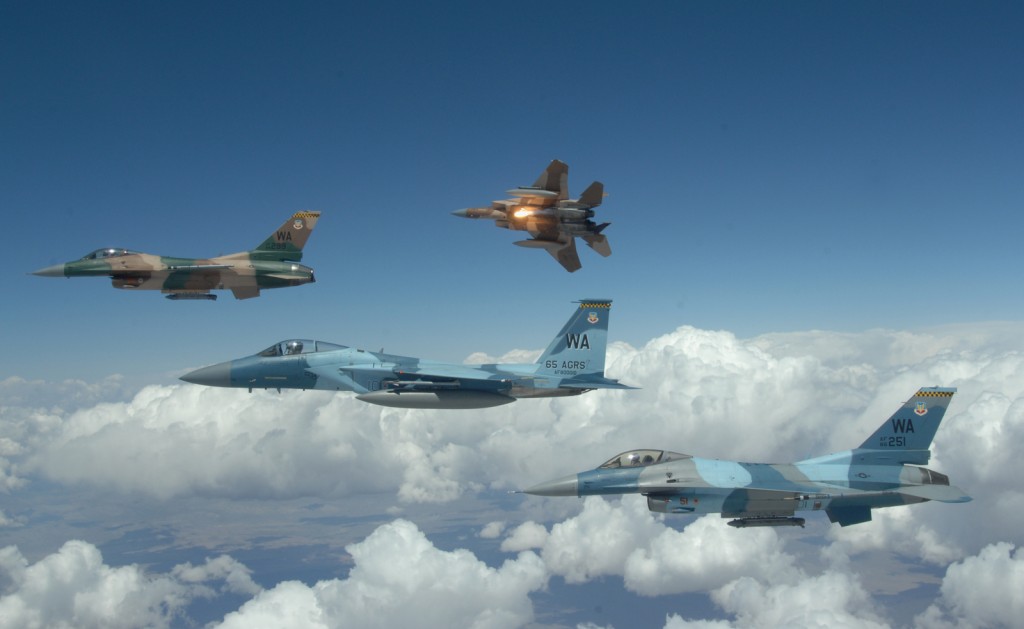 The mission of the 414th Combat Training Squadron is to maximize the combat preparation and survivability of the participants by providing a realist environment to train in. Pre-flight and post-flight training forum is encouraged to exchange ideas on how to improve. The training range has more than 15,000 square miles of airspace and 2.9 million acres of land.
"With 1,900 possible targets, realistic threat systems and an opposing enemy force that cannot be replicated anywhere in the world, Nellis AFB and the NTTR [training range] are the home of a simulated battlefield, providing combat air forces with the ability to train to fight together in a peacetime environment [and] to survive and win together," the press release said.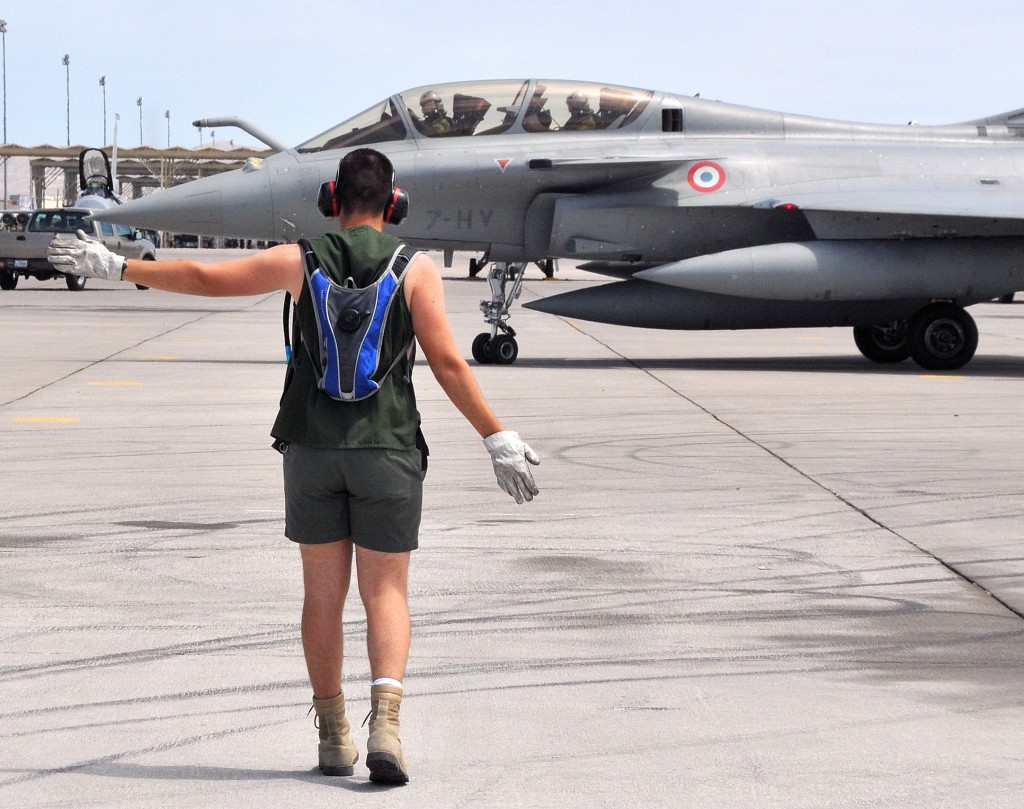 This year marks the 40th anniversary of the first Red Flag exercise. Since 1975, there have been more than 440,000 military personnel trained under this exercise which includes more than 145,000 air crew members flying more than 385,000 sorties and logging more than 660,000 hours of flying time.
Red Flag 15-1 will include U.S. forces and aircraft from:
1st Fighter Wing, 94th Fighter Squadron, F-22As, Langley Air Force Base, Virginia

20th Fighter Wing, 79th Fighter Squadron, F-16CJs, Shaw Air Force Base, South Carolina

55th Electronic Group, 43rd Electronic Combat Squadron, EC-130s, Davis-Monthan Air Force Base, Arizona

57th Wing, 526th Intelligence Squadron, DCGS, Nellis Air Force Base, Nevada

158th Fighter Wing, 134th Fighter Squadron, F-16Cs, Burlington, Virginia Air National Guard

114th Fighter Wing, 175th Fighter Squadron, F-16Cs, Sioux Falls, South Dakota Air National Guard

31st Fighter Wing, 555th Fighter Squadron, F-16CMs, Aviano Air Base, Italy

Carrier Air Wing 17, Electronic Attack Squadron 132, EA-18G, Naval Air Station Whidbey Island, Washington

9th Reconnaissance Wing, 99th Reconnaissance Squadron, U-2, Beale Air Force Base, California

55th Wing, 43rd Electronic Combat Squadron, EC-130H, Davis Monthan Air Force Base, Arizona

509th Bomb Wing, 393rd Bomb Squadron, B-2As, Whiteman Air Force Base, Missouri

3rd Marine Aircraft Wing, Marine Fighter Attack Squadron 225, F/A-18D, Marine Corps Air Station, Miramar, California

461st Air Control Wing, 12th Airborne Command and Control Squadron, E-8s, Robins Air Force Base, Georgia

55th Wing, 348th Reconnaissance Squadron, RC-135s, Offutt Air Force Base, Nebraska

Patrol and Reconnaissance Wing, Fleet Air Reconnaissance Squadron 1, EP-3C, NAS Whidbey Island, Washington

Patrol and Reconnaissance Wing Ten, Patrol Squadron 46, P-3C, NAS Whidbey Island Washington

22nd Air Refueling Wing, TTF, KC135s, McConnell Air Force Base, Kansas

23rd Wing, 79th Rescue Squadron, HC-130Js, Davis-Monthan Air Force Base, Arizona

23rd Wing, 66th Rescue Squadron, HH-60Gs, Nellis Air Force Base, Nevada

552nd Air Control Wing, 965th Airborne Air Control Squadron, E-3s, Tinker Air Force Base, Oklahoma

57th Wing, 64th Aggressor Squadron, F-16Cs and F15Cs, Nellis Air Force Base, Nevada
This exercise also includes Typhoons, F-15Cs, E-3ds, Sentinels and a Control Reporting Centre from the United Kingdom's Royal Air Force. From the Royal Australian Air Force the C-130Js will also be participating. In a typical Red Flag exercise there includes two forces named the Blue forces which are friendly and the Red force which are hostile. The Blue forces engage the red force in a realistic combat situation.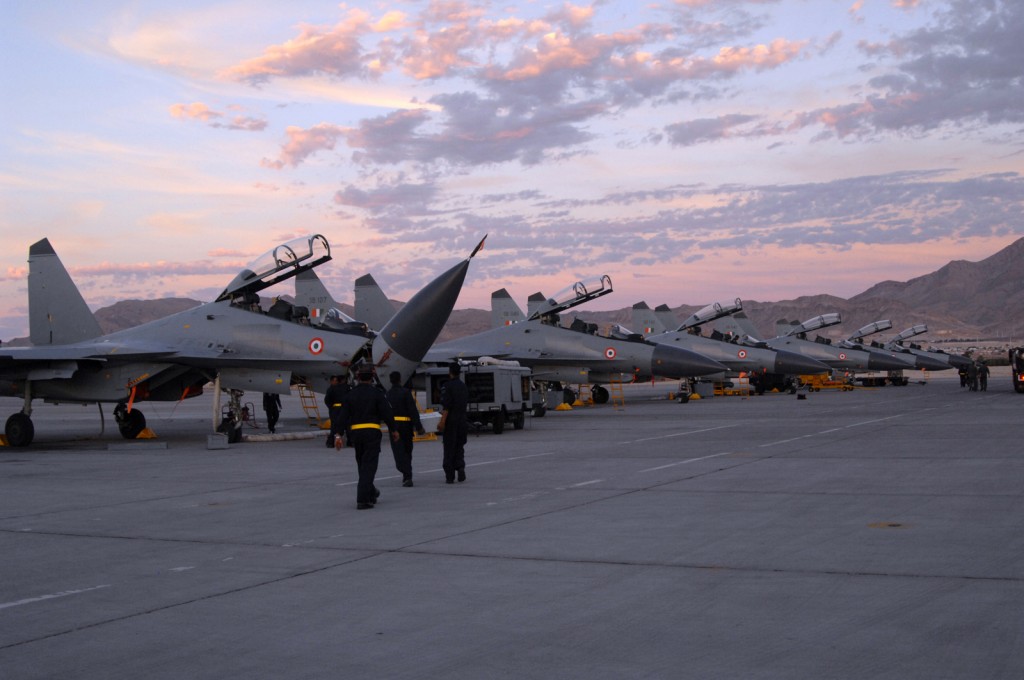 A classic flag exercise year includes ten Green Flags, one Canadian Maple Flag and four Red Flags.
Each Red Flag exercise normally includes a variety of fighter interdiction, attack/strike, air superiority, enemy air defence suppression, airlift, air re-fueling and reconnaissance missions. In a 12-month period, more than 500 aircraft fly more than 20,000 sorties, while training more than 5,000 aircrews and 14,000 support and maintenance personnel.
Before a "flag" begins, the Red Flag personnel conducts a planning conference where unit representatives and planning staff members develop the size and scope of their participation. All aspects of the exercise, including accommodation of personnel, transportation to Nellis AFB, range coordination, ordnance/munitions scheduling, and development of training scenarios, are designed to be as realistic as possible, fully exercising each participating unit's capabilities and objectives.