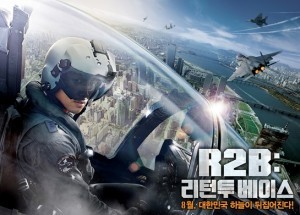 Return to Base (R2B) is a South Korean drama based on aviation plot. The film is all about an uncontrolled young fighter pilot. Though the young air force pilot is reckless but he is talented and elite. He is downgraded to a combat flying unit by a more veteran as well as disciplined rival. He then comes across the value of teamwork. This movie resembles 'Top Gun' starring Tom Cruise.
The story begins with hotshot pilot who get booted out of his best squadron after succeeding a dangerous stunt during an air-show. His cocksure behavior doesn't sit well with his fresh unit, particularly with the stoic, serious and stone-faced ace who has never been beaten or challenged by any of his co-pilots or associates. Throw in an impressive but hard-hitting mechanic, an inter-pilot contest along with an ultimate external rival in the shape of some North Korean scoundrels in the middle of a rebellion and a viewer can pretty much visualize the rest of the story.
The cocky air show demonstrated by captain Jung Tae-yoon led him to get transferred to combat flying F-15K unit. The rebellion nature of the two guys Jung Tae-yoon and Cheol-hee then changes into friendship and teamwork when a reconnaissance mission unpredictably becomes an incident and the two form a team to rescue and save their missing comrades.
In the movie the 21st century Fighter Wing patrols have seen patrolling the airspace around the border between North Korea and South Korea.
Return to Base wanders into the weeds with excessive amounts of time provided to a character's domestic as well as another's rising romance.
The climax of this movie features a suitable high-octane ending in which the daring heroes have only 7 minutes to execute an unsanctioned mission that will potentially rescue their comrades and civilians.
The actual aerial photography and special effects of the movie give a glimpse into the daring rescue missions of air-force fighter planes and pilots.