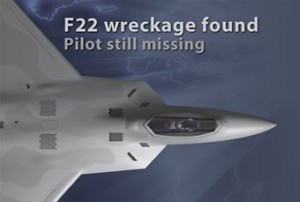 The pilot of the F-22 aircraft that crashed Tuesday night has been identified as Capt. Jeffrey Haney, assigned to the 525th Fighter Squadron. Capt. Haney's current status is missing.
The aircraft lost contact with air traffic control at 7:40 p.m. Alaska time Tuesday, while on a nighttime training mission. Search and rescue teams discovered the wreckage of the F-22, assigned to the 3rd Wing at Joint Base Elmendorf-Richardson, Wednesday at 10:15 a.m.
Rescue teams from the 11th Rescue Coordination Center, Alaska Air National Guard, the 3rd Wing and Joint Base Elmendorf-Richardson continue to search the area, approximately 100 miles north of Anchorage.
The family was notified on Tuesday evening and continues to receive support from the JBER family and leadership.
"This is a very uncertain and difficult time for the family," said Col. Jack McMullen, 3rd Wing commander. "We ask that the public continue to work with us to respect their privacy and keep them in your thoughts and prayers."