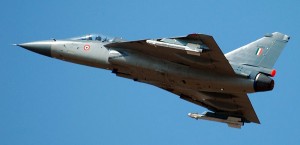 India's much awaited supersonic fighter jet, LCA (Light Combat Aircraft) Tejas was inducted into the IAF today. Tejas was handed over to the IAF by Defence minister, A K Antony after the Initial Operational Clearance.
"Tejas taking wings is actually a dream come true for all of us. We've been dreaming about this for the last 25-30 years," exclaimed Air Chief Marshal PV Naik.
LCA Tejas is India's first indigenously built light combat aircraft and its induction today has emphasized India's defence aviation and self sufficiency capabilities.
The induction of LCA Tejas today has launched India into an exclusive club of nations that include the US, Russia, France and Britain that can produce combat aircrafts.  IAF plans to induct two squadrons in IOC mode by the middle of 2011. The IAF has already placed the orders for 40 LCAs in March 2005. The first 40 LCAs are powered by the American General Electric GE-F404 engines.  The value of these 40 aircraft is estimated around Rs. 7,000 crore.
The Tejas is a single-seat, single-engine, lightweight, supersonic fighter aircraft with speeds upto Mach 1.4. It is also capable of carrying assorted weapon load and can drop tanks up to four tons.It has some of the latest avionics and digital flight control systems. The Tejas, presently is powered by American General Electric Engine.
However it is said that LCA Tejas is not 100 per cent ready and many more tests need to be done by IAF before it can truly be a cutting edge machine.
IAF will base the first of its LCA squadrons at its Sulur air base near Coimbatore in Tamil Nadu.