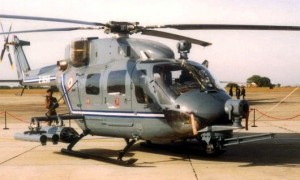 The Hindustan Aeronautics Limited (HAL) will hand over five Shakti engine-powered Advance Light Helicopters (ALHs) , Dhruv (Mk III) to the Indian Army during the upcoming Aero India 2011 to be held at Yelahanka, Bengaluru, India starting from February 9th to 15th. The five ALH's are the first batch of helicopters to be handed over to the Indian Army as part of the 159 ALH programme. Hindustan Aeronautics Ltd (HAL), will treat spectators at Aero India 2011  in Bengaluru to a spectacular air-display of helicopter aerobatics by its newly-built Light Combat Helicopter (LCH).
The Chairman of  Bengaluru headquartered defence manufacturing major, Ashok Nayak, will hand over the helicopters on February 9th, 2011. "At this Aero India, we will showcase our future products and technologies, our designing capabilities and the excellence we have achieved in manufacturing. We would also use this platform to explore more business opportunities with other countries," said Nayak in a statement. HAL has said that the LCH will fly manoeuvres that will surpass the Indian Air Force's globally-acclaimed Sarang aerobatics team, which flies the Dhruv helicopter. The second prototype of the LCH is scheduled to make its first flight live at Aero India 2011. Eventually, Indian Airforce plans to buy 65 of these heavily armed and armoured helicopters.
The key to HAL's helicopter performance is the Shakti engine, which was jointly developed by French engine-maker Turbomeca, in partnership with HAL. The LCH incorporates stealth features and crash landing gear for survivability. The LCH will have a narrow fuselage, with two crew stations. The LCH would also incorporate a data link for network-centric operations facilitating the transfer of mission data to the other airborne platforms and ground stations. According to HAL, a red and white painted mock up of LUH displaying the state-of-the art design features of chopper will be showcased. Multi Role Transport Aircraft (MTA) will also be on display. Manufactured by HAL and UAC of Russia, the MTA aircraft will replace AN-32 of the Indian Air Force.
Aero India-2011, which will be held in the southern city of  Bengaluru on February 11th to 15th, would attract a record number of leading manufacturers, vendors and suppliers from 63 countries. Aero India show displays the civil and military air-crafts and other latest products from the Indian aviation and aerospace industry and is Asia's largest exhibition which is held once in two years.