Vietnam has been interested in BrahMos for sometime now but China sees India selling BrahMos to Vietnam as an act of belligerence and interference in the South China Sea dispute. The intergovernmental agreement between India and Russia to develop the BrahMos stipulates that both countries have to approve the export sale to a friendly nation that neither Russia nor India has conflicts with. The only issue regarding the sale of missiles is that nations looking to buy may have stressful relations with Russian allies or trading partners. Vietnam is already locked in a state of tension with China, over maritime boundaries in the South China Sea. The Chinese Government has major objections about Vietnam getting these missiles for its navy.
China seems to be overlooking the fact that it sells a great deal of weapons to Pakistan, a country that has been in a gridlock with India for decades. All indications now point to the fact that New Delhi has overcome its reservations and fears about annoying China in supplying the cruise missile to Vietnam. Co-developers of the missile, Russia has also agreed to the proposal in principle. Spokesman for BrahMos Aerospace, Praveen Pathak, has said that he expects friendly nations, with whom neither India nor Russia have a conflict, to show interest in purchasing these missiles.
As Defense Minister Manohar Parrikar winds up the Singapore leg of his two-nation, South-East Asia meeting and heads to Hanoi, he will have much more to talk about with his Vietnamese counterpart than just the sale of missiles. India is reaching out aggressively to South East Asian nations to fulfill a policy of a more robust military-to-military partnership with those countries.
The BrahMos is a short-range, ramjet, supersonic anti-ship missile that can be launched from submarines, ships, aircraft or land. It was developed jointly by India's Defence Research and Development Organisation (DRDO) and the Russian Federation's NPO Mashinostroeyenia. It is heavily based on the Russian P-800 Oniks cruise missile and other similar sea-skimming Russian cruise missile technology. The name BrahMos is a portmanteau formed from the names of two rivers, the Brahmaputra of India and the Moskva of Russia.
The Brahmos is considered one of the most effective and lethal anti-ship missile due to the fact that it is the world's fastest anti-ship cruise missile in operation, with speeds reaching Mach 2.8 to 3.0. Currently, the BrahMos launch vehicles are surface and ship based, while the air and submarine- launched versions are in the testing phase. They are plans to use this in Vietnam's Kilo-class submarines. A hypersonic version of the missile, the BrahMos-II, is also currently under development with speeds up to Mach 7 to boost aerial fast strike capability. It is expected to be ready for testing as early as 2017.
BrahMos has the capability of attacking surface targets by flying as low as 5 metres in altitude, although it has a maximum altitude as high as 14,000 metres. Its Mach 2.8 speed can be achieved with a diameter of 70 cm and a wingspan of 1.7 m, which gives it a maximum range of 290 km. Payload figures for the warheads are 200 kg for the ship-launched and land-based missiles, whereas the aircraft-launched variant can manage a 300 kg warhead. The two-stage propulsion system consists of a solid-propellant rocket for initial acceleration and a liquid-fueled ramjet providing for sustained supersonic cruise. Since it is an air-breathing ramjet propulsion, the BrahMos is more fuel efficient than a rocket-powered missile, giving it a longer range than what a pure rocket-propelled missile could achieve.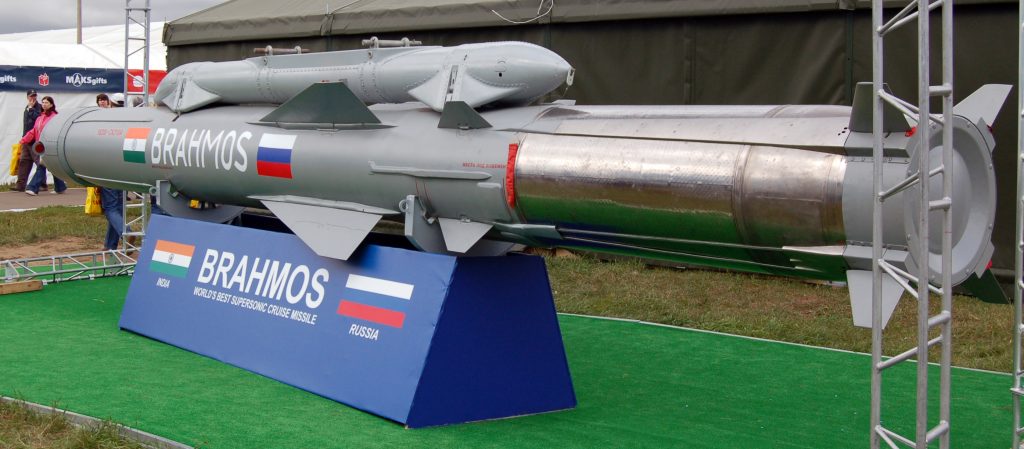 The high speed of the BrahMos gives it better target-penetration characteristics than lighter subsonic cruise missiles such as the Tomahawk. Its extended weight and high speed give the BrahMos more on-cruise kinetic energy, although it carries a lighter payload than the Tomahawk, suggesting the missile was designed with different tactical roles in mind. Its ultra-high speed of Mach 2.8 means it cannot be intercepted by some existing missile defence systems, and its precision makes it a superior and lethal weapon for water targets.
The BrahMos can also engage land-based targets, despite being primarily designed as an anti-ship missile. It can be launched either in a vertical or inclined position and covers targets over a full 360-degree horizon. It has identical configurations for land, sea and sub-sea platforms. However, the air-launched version has a smaller booster and additional tail fins for increased stability during air launches. It is currently configured for aerial deployment with the twin-jet, multirole, air-superiority fighter, the Sukhoi Su-30 MKI.
Meanwhile, Japan and India are all set to strengthen security ties with the US, with the prospect of bolstering their trilateral security cooperation. It is very significant for Japan, India and the US to ensure the security of the vast Pacific and Indian Oceans. Japan has suggested that the three countries start organizing regular high-level meetings, and the Indian Defence Minister, Manohar Parrikar will consider the proposal.
Japan is poised to join the navies of the US and India in the annual Malabar Naval exercises, which India and the US have been conducting since 1992. Recently, Japan became a permanent participant following an agreement between Prime Minister Narendra Modi and his Japanese counterpart, Shinzo Abe. The 2016 Malabar exercise will be carried in waters around Okinawa, close to the Japan-controlled, China claimed Senkaku Islands.