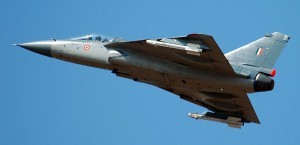 The HAL TEJAS is a 4th generation lightweight  Multirole Light Combat Aircraft(LCA)  being developed by India.Originally this Aircraft was known as LCA , however an official name 'TEJAS' was given to it by the then Prime Minister Atal Bihari Vajpayee.
HAL TEJAS is the second supersonic fighter manufactured indigenously by Hindustan Aeronautics Limited after the HAL Marut.The Indian Air Force (IAF) is reported to have a requirement for 200 single-seat and 20 two-seat conversion trainers, while the Indian Navy may order up to 40 single-seaters.
The HAL TEJAS was designed to meet the requirements of Indian Air Force as its frontline multi-mission single-seat tactical aircraft to replace the MiG-21 series aircraft.
"The induction of first squadron of the Light Combat Aircraft (LCA) to Indian Air Force (IAF) can take place by the end of 2010 or the beginning of 2011 with regular persuasion and monitoring of the LCA programme" ,  the Air Chief Marshal Fali Homi Major said.
The HAL TEJAS is designed with a single vertical fin  with no tailplanes or foreplanes and has a delta wing configuration. The HAL TEJAS  integrates modern design concepts and state-of-art technologies such as flyby-wire Flight Control System, Advanced Digital Cockpit, Multi-Mode Radar, Integrated Digital Avionics System, Advanced Composite Material Structures and a Flat Rated Engine.
The Tejas design has been configured to match the demands of modern combat scenario such as speed, acceleration, maneuverability and agility. Other salient  features of TEJAS include short takeoff and landing, excellent flight performance, safety, reliability and maintainability.
The Chief of Air Staff during his farewell visit to Aeronautical Development Agency (ADA) recently said  "IAF is on the transformation stage in the matter of gaining overall capabilities, with the help of organizations such as DRDO, ADA, HAL and other partners ".  This was said in regard to India's constant effort in modernization and expanding its indigenous aerospace capabilities.