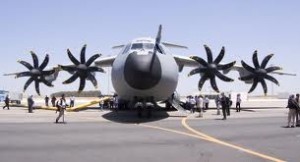 In a further blow to the troubled Airbus A400M project, Germany will take delivery of only 40 of the 53 military transport planes as decided by the parliamentary budget committee. Deputies signed off on the revised project, which will see Germany maintain its order of 53 planes but then sell on 13 of them to another client, a parliamentary source said. There was no mention of the potential buyer for the unwanted planes in Germany's order but Airbus Military will be charged with selling them on.
Seven countries have ordered 180 of the aircraft for €20 billion from European plane maker Airbus but the project is three years behind schedule and billions of euros over budget. It has been marred by setbacks, with the aircraft's first flight postponed to an undetermined date because of engine problems. Airbus, a unit of the European Aeronautic Defence and Space Company, was supposed to get the transport plane in the air in January 2008. It is the second time in three months that Germany has sought to cut its complement of A400Ms. In November, it reduced its firm order from 60 planes to the current 53. Last November, the seven Nato countries – Germany, France, Spain, Britain, Turkey, Belgium and Luxembourg – reached an agreement on financing 5.2 billion euros of cost overruns but a definitive deal has yet to be signed.
The Airbus A400M is a multi-national four-engine turboprop military transport aircraft. It was designed by Airbus Military as a tactical airlifter with strategic capabilities. The A400M is undergoing flight testing since  December 2010 and has orders total 174 aircraft from 8 nations as of 2010. The A400M is positioned as an intermediate size between the Lockheed C-130, and the Boeing C-17.