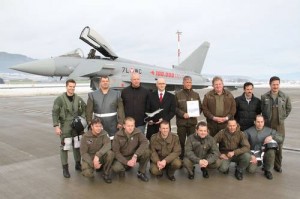 The operational fleet of Eurofighter Typhoon have achieved an impressive milestone of 100,000 flying hours started from second half of 2003 till  January 2011. The 100,000 hours were achieved flying the Typhoons in the bitter cold weather of the Baltic Sea, in the temperate climate of the Tyrrhenian Coast, in the torrid heat of the Arabic Peninsula and over the rough South Atlantic Sea. A range of operational scenarios have tested the Typhoon to its limits and is testament to the reliability; operational readiness and the durability of the platform and systems under operational conditions.
This milestone was celebrated today during an event held at Eurofighter headquarters in Munich, Germany. At the event, senior representatives from the Eurofighter programme, Eurofighter management agency NETMA alongswith senior staff from all six customer nations including those from the export customers Austria and the Kingdom of Saudi Arabia were present.
Enzo Casolini, CEO of Eurofighter GmbH stated "This achievement for the Eurofighter programme demonstrates the maturity reached by the platform and the reliability of it as a defence system. In addition, this key event shows in clear terms what can be achieved through international cooperation and partnership. With so much achieved to date and so much still to look forward to, I am proud to say I am part of such a successful programme".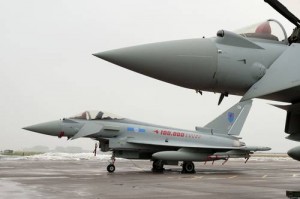 The first 5,000 flying hours was achieved in November 2005 . The 10,000 hours milestone came in August 2006, 20,000 flying hours was achieved in May 2007 and by August 2008 the Typhoon had surpassed over 50,000 hours. This increase in activity alco matches the steady delivery of aircraft to the customers.
The operational fleets have more than 260 aircraft in service – the largest number among the new generation fighters available in the world today. The Tranche 2 production is in full swing with all 148 Tranche 1 aircraft delivered . The Typhoon is also establishing its footprints within the partner and export Customer air forces as the backbone of the operations both in terms of air dominance and ground support roles. This new milestone for the Eurofighter programme provides another strong message about the operational availability of the Typhoon and highlights the benefits of investing in such an aircraft . Video footage of each nation participating in the 100,000th hour was shown to guests at the event.