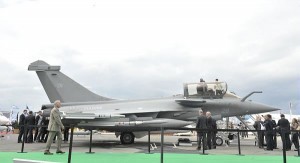 The International Paris Air Show at Le Bourget hosted more than 2,100 international exhibitors for the first time in its history, from 20 to 26 June. With its 28 international pavilions, 140 aircraft the International Paris Air Show at Le Bourget offered its 138,000 professional visitors and 200,000 general public visitors a unique experience. With 138 000 trade visitors, 193 000 general public visitors, 130 000 sqm total area sold and 192 000 sqm aircraft display areas with over 140 aircrafts present including 42 in flying display the air show will welcome 205 official delegations from 88 countries and 3000 accredited journalists from all over the world.
Exhibitors coming from almost 50 countries with 47.8% of the participated companies being of French origin, Dassault Aviation were there to showcase latest developments in their programs. Dassault Aviation Defense Display at Paris Airshow included Rafale, nEUROn and TELEMOS. Charles Edelstenne, Chairman and CEO of Dassault Aviation, at the press conference prior to the 2011 Paris Air Show said "The Rafale, thanks to its exceptional Spectra self-defense system, has proven its "first strike" capability, just a few hours after receiving the green light from the UN, at a time when Libya still mustered considerable air defense capabilities."
Dassault Rafale one of the MMRCA contenders which made its recent appearance at Aero India 2011 was there at the Paris Air Show. Rafale is a twin-engine delta-wing multi-role jet fighter introduced by Dassault in 2000. Since then the Rafale is being produced both for land-based use with the French Air Force and for carrier-based operations with the French Navy. Both Dassault and French Government is enthusiast to export Rafale to several countries and have also been marketed but have not received any orders yet. Rafale is a potent contender for Indian Air Force's MMRCA tender, which is still undecided.
In April 2011, the IAF shortlisted Dassault Rafale and Eurofighter Typhoon for the $12 billion contract. Dassault Aviation Chairman and CEO, Charles Edelstenne revealed here at Paris Air Show that on technical aspect they continue to work on F3+ upgrades, with very promising results and these upgrades will be integrated in "tranche 4", to be delivered starting in 2013. Brought into operational service in 2010, the F3 standard gives the Rafale nuclear deterrence, reconnaissance and anti-ship capabilities. "It is worth noting here that the Rafale will be the first European fighter fitted with an active radar, and this radar will be qualified next year." Edelstenne said.
The other challenges faced by Dassault includes the integration of the Meteor missile (in 2018, or earlier), and improvements based on operational feedback (cannon, FBW, concrete-busting bombs, etc.). The Rafale is also the first European combat aircraft to use an electronic scanning radar developed by THALES. It also set a record by destroying a tank from a range of 57 km. With the advent of "Tranche 4", as mentioned earlier which is due to enter service from 2013 Rafale fighters will be fitted with an "Active Electronically Scanned Array" (AESA) RBE2 radar which will provide a wide range of functions including all-aspect look-up and look-down detection and tracking of multiple air targets for close combat and long-range interception, in all weather and in jammed environment, detection and tracking of multiple naval targets and real time generation of high resolution 2D ground maps for navigation updates and detection, identification and designation of ground targets. The RBE2-AESA is also fully compatible in terms of detection range with the upcoming long range METEOR air-to-air missile. The Rafale is slated to be the French armed forces prime combat aircraft until 2040 at least.
The developments on nEUROn which is an Unmanned Combat Air Vehicle (UCAV) being developed with international cooperation, led by Dassault Aviation is now at the final assembly stage. Dassault said in the press conference the fuselage sections and the wing have been delivered to Istres and are being assembled. The Adour Mk951 jet engine has successfully completed endurance tests and is now being installed in the fuselage. It was said the stealthy air inlet was built by Dassault using RTM (resin transfer molding) technology and was manufactured successfully on the first try by our Argenteuil plant, and was delivered to Istres in February. There are several challenges faced by Dassault during the design phase of the nEUROn. The shapes of the air vehicle (aerodynamic, innovative composite structure, and internal weapon bay), the technologies related to low observability issues. nEUROn ground tests will start in the fourth quarter of the year, prior to the first flight planned for mid-2012 and flight tests and stealth demonstrations will take place in France (Istres base) and in Sweden, then in Italy, and will last more than a year and a half. The demonstration goal of the nEUROn will be to perform an air-to-ground mission based on the detection, localization, and reconnaissance of ground targets in autonomous modes.
Next generation MALE (medium-altitude, long-endurance) drone are also planned. In March, BAE Systems and Dassault Aviation signed a Memorandum of Understanding (MoU), setting out the exclusive collaboration terms and conditions for the submission of a joint proposal for a MALE drone to the French and British ministries of defense. The MoU also defines the framework for the two companies to develop their long-term industrial collaboration. BAE Systems will be prime contractor, and Dassault Aviation will be in charge of the systems, in a 50/50 workshare split. Dassault is still waiting for the two governments to make a decision on program launch. "Once we have all the financial and technical information needed, we can refine our solution and start work very quickly", Edelstenne said