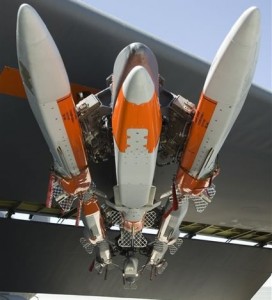 Boeing earlier this month supported the U.S. Air Force in the first powered launch of a Miniature Air Launched Decoy Jammer (MALD-J) from a B-52. The successful test, in which the electronic jammer was launched from a B-52 Stratofortress, took place over the Gulf of Mexico at the Eglin Air Force Base, Fla., test range.
Boeing designed the avionics software onboard the B-52 that controls and launches the Raytheon-built MALD-J.
"The software functioned exactly as we designed," said Scot Oathout, B-52 program director for Boeing. "We were able to power up the MALD, send the mission through the interface and verify that the data was properly received."
MALD-J is the newest variant in the MALD family. It has added capabilities to loiter or orbit over an area and jam adversaries' radars.
"This is another great opportunity for the Air Force and Boeing to transform the B-52 and expand its mission from a predominantly offensive role to a more defensive player, defending U.S. and allied aircraft in combat zones," said Oathout.
The weapon itself is a creation of Raytheon; it's based on the previous MALD (Miniature Air Launched Decoy) system which is already in service with the USAF. However the MALD-J (Miniature Air Launched Decoy-Jammer) is a modular platform and gives some offensive as well as defensive capabilities to the B-52 Stratofortress. The weapon not only presents itself as a decoy but also jams the adversaries' radar system thus crippling all their radar based weapons systems.
Raytheon was awarded with a US$ 80 million contract for the development testing and integration on March 31,2008. The developmental flight testing had been completed successfully before the contract was awarded.
"The modular MALD-J will give the war fighter expendable, stand-in jamming capability, reducing or eliminating the need to send aircrews into harm's way to conduct jamming missions, "said Scott Muse, Raytheon's MALD program manager.
Raytheon had previously conducted a free flight test in December 2009 to ensure that the MALD-J system performs under war like conditions. A Critical Design Review milestone was completed in February 2010, finalizing system design and development.
MALD-J's milestone C is still in the pipeline, if approved the production is expected to begin later this year.
A 3rd variant of the MALD (MALD-V) will be able to carry a small payload which most likely would consist of surveillance gear, jammers and other equipment. This can turn the MALD into a UAV or a combination of both.