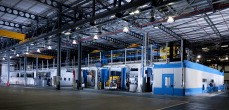 Samlesbury, UK – BAE Systems has formally opened a new state-of-the-art titanium machining facility at its Samlesbury site in Lancashire. The robotic facility will be used to manufacture detail and assembly components of the Aft Fuselage, Vertical Tail and Horizontal Tail for the F-35 Lightning II combat aircraft, further reinforcing BAE Systems' key role in the world's largest defence programme.
From the first sod being cut in May 2009, the 9000 metre square machining facility has taken just ten months to complete and a further eight months to become operational. It comprises two computerised Flexible Manufacturing Systems (FMS) which not only manage the manufacturing requirements and machine tool utilization, but also interface with order book requirements, thus ensuring components are produced and delivered on a 'just-in-time' basis.
Each FMS contains eight large hard metal milling machines, two long spar longeron machines and is supported by a number of secondary operations. The facility is equipped to allow two titanium components to be produced at the same time thus doubling efficiency. This capability will be critical in meeting the growing demands of the F-35 Lightning II programme which, at full rate production, will potentially see aircraft produced at a rate of one per day.
The facility was formally opened by Mark Kane, BAE Systems' Managing Director – Air Mission Support & Services who commented "This is a huge step forward in the development of our manufacturing capabilities. The facility contains extremely complex manufacturing systems that have taken years to design, with some being the first of their kind in world. Investment in cutting edge technology is fundamental in demonstrating our commitment to enhancing the UK's manufacturing capabilities and the future of aerospace in the UK."
Mark added "This facility is also fundamental in ensuring we continue to play a key role in the F-35 programme. We are steadily increasing our technical capability in support of the F-35 programme and this facility will keep us quite literally at the cutting edge of manufacturing technology."