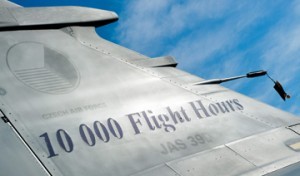 During the NATO Days 2010, the Czech Air force celebrated 10,000 flight hours with their fleet of 14 Gripen aircraft. That means an average of more than 140 hours per aircraft and year. "In May, we successfully reached half of the lease contract for the Gripen aircraft, and we are very proud that we already have flown 10,000 flight hours on these fighters. It is easy just to say it, but it really means a lot of work, technical skills and capabilities of pilots, as well as of ground crew," says Verner.
"We are really satisfied with the Gripen program, it works great and we are looking forward to the next five years. I hope that such close cooperation between the Czech and the Swedish Air Force will continue and I wish this program only the best."
Important milestone
Major General Anders Silwer, Air Force Inspector and Commander Air Component Command, Swedish Air Force, personally handed over a framed photograph of Gripen to the Czech Air Force Commander, Brigadier General Ji?í Verner to commemorate this important milestone of the Czech-Swedish government to government cooperation.